Disclosure:
Our reviews may contain affiliate links. If you purchase something through the links in this article we may receive a small commission or referral fee. This happens without any additional cost to you.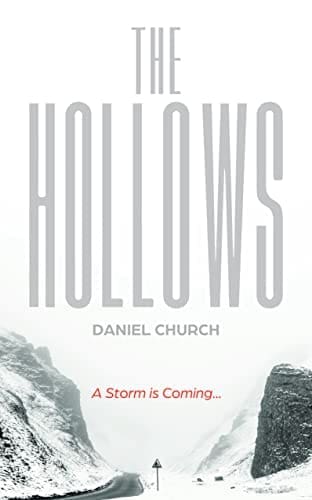 ​
Title: The Hollows
Author: Daniel Church
Publisher: Angry Robot
Genre: urban fantasy / folk horror
Release date: 8 November 2022
Synopsis: Folk horror meets ancient gods in a remote snowbound Peak District town where several murders take place…
In a lonely village in the Peak District, during the onset of a once-in-a-lifetime snow storm, Constable Ellie Cheetham finds a body. The man, a local ne'er-do-well, appears to have died in a tragic accident: he drank too much and froze to death.  
But the facts don't add up: the dead man is clutching a knife in one hand, and there's evidence he was hiding from someone. Someone who watched him die. Stranger still, an odd mark has been drawn onto a stone beside his body. 
The next victims are two families on the outskirts of town. As the storm rises and the body count grows, Ellie realises she has a terrifying problem on her hands: someone – or some thing – is killing indiscriminately, attacking in the darkness and using the storm for cover. 
The killer is circling ever closer to the village. The storm's getting worse… and the power's just gone out.