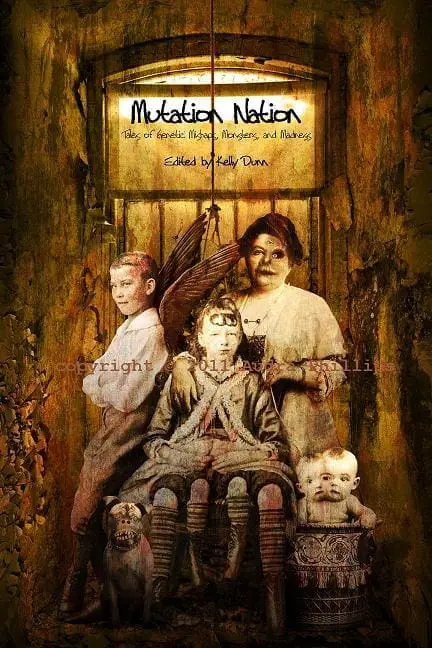 Mutation Nation
Deadline: October 1st, 2011
Payment: $50.00 + 1 Contributor's Copy
Tales of Genetic Mishaps, Monsters, and Madness
Edited by: Kelly Dunn
Mutations. Such tiny changes, such radical extremes. Mutations are not what we expect and more than we bargained for. The red-headed beauty on the fashion catwalk, Cronenberg's "Brundlefly" abomination—both are the result of mutations, but with wildly different results. Mutations can beautify or deform, create or destroy. Mutations have the power to build a new physical look, alter brain chemistry, affect emotions. With mutations in the mix, humans can wind up stranded in a hellish unfinished limbo, or evolve a little too well into something the rest of us might not recognize.
Who are these human oddities? How do these characters and/or the people in their lives deal with the curse—or the blessing—of their mutations? This anthology will contain stories that explore these human mutations—and their consequences.
Your mutation story should contain these basic elements:
One or more human characters with a single or multiple mutations.
One or more human characters dealing with a problem/problems related to the mutation.
If your mutation results in a monster, that monster should be a new or different twist on humanity—not a vampire, werebeast, zombie, or other overly familiar supernatural creature.
The form the mutation takes is up to you. You might choose a mutation that causes physical changes, and/or changes in brain chemistry; a mutation known to biological science or one of your own design. The mutation could be the result of an experiment, environmental factors, or even caused in some way by the character's own actions.
There are infinite possibilities to explore.
I am looking for compelling characters, strong plotting, and vivid imagery. I would prefer that the feeling of terror be mingled with a sense of wonder or the darkly miraculous. The word "mutation" does not have to appear in the story, but it should be very clear that the conflict of the story has arisen as a result of one or more mutations.
Details:
Genre: This is a horror anthology. Think "Twilight Zone" in terms of range. Stories can contain elements of science fiction, dystopia, dark fantasy, gothic, and psychological horror. Stories can take place in any time period.
Words: Stories should be between 3,000 and 7,000 words, with a length of 5,000-6,000 words preferred.
Rights: First-time World Anthology and first-time electronic publication rights only are purchased by Rainstorm Press for paper and electronic publishing. No simultaneous submissions or reprints.
Payment: $50.00 will be paid upon acceptance, plus one print contributor's copy and one electronic contributor's copy.
Deadline: All submissions must be received by October 1, 2011. Target release date is December 1, 2011.
Format: Manuscripts may be submitted by e-mail attachment. Word documents only, please. Standard manuscript format. You can see an example of the correct formatting here:
http://www.sfwa.org/2008/11/manuscript-preparation/
Send submission to:
[email protected]
Feel free to send any questions you may have to this email address, as well.