Disclosure:
Our reviews may contain affiliate links. If you purchase something through the links in this article we may receive a small commission or referral fee. This happens without any additional cost to you.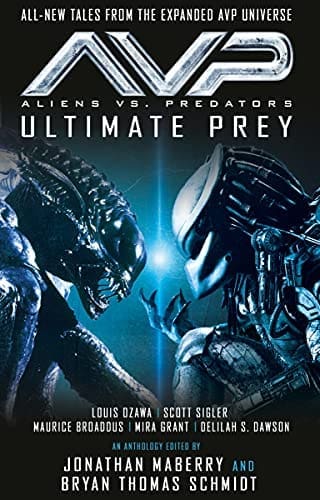 Title: Aliens vs. Predators – Ultimate Prey
Editors: Jonathan Maberry and Bryan Thomas Schmidt
Publisher: Titan Books
Genre: Space Horror
Release Date: 1st March, 2022
Synopsis: Fifteen new and original stories for a first-of-its-kind anthology, set in the expanded Aliens vs. Predators Universe. 
Here the ultimate hunters, the Predators, pitted against their ultimate prey, the Xenomorphs from Alien, with humans caught in the middle! Taking place on Earth and in distant space, these tales have been crafted by a who's who of today's most talented authors of the fantastic:
David Barnett – Roshni "Rush" Bhatia – Curtist C. Chen – Delilah S. Dawson – Mira Grant – Susanne L. Lambdin – Jess Landry – Yvonne Navarro – E.C. Myers – Scott Sigler – Maurice Broaddus – Chris Ryall – Bryan Thomas Schmidt – Steven L. Sears – Jonathan Maberry and Louis Ozawa.
Inspired by the events of the original Aliens vs. Predators movies, graphic novels, and novels, these are the ultimate life-and-death struggles. Including a new story written by Jonathan Maberry and Louis Ozawa ("Hanzo" from the movie Predators) as Hanzo's brother faces the eternal threats of both the Yautja and the Xenomorphs.