Disclosure:
Our reviews may contain affiliate links. If you purchase something through the links in this article we may receive a small commission or referral fee. This happens without any additional cost to you.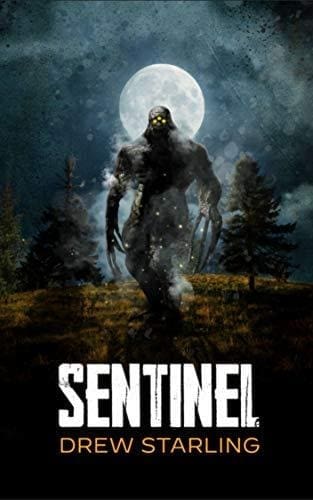 Title: Sentinel
Author: Drew Sterling
Genre: Horror
Publisher: Eerie River Publishing
Release Date: 13th May, 2021
Synopsis: A monster. A missing boy. And nowhere to run.
Something is lurking in the woods just beyond Aaron and Ellen Dreyer's new country home, and an evil that has been hiding in plain sight is about to emerge. A neighbor is brutally murdered, their 4-year old son goes missing in broad daylight, and the local town of Bensalem devolves into a cesspool of finger-pointing and chaos. With nowhere left to turn, Aaron and Ellen are forced to venture into the woods to find their son… and the truth. But in the process, they uncover a force larger and more sinister than they ever could have imagined.
Sentinel is author Drew Starling's debut novel from Eerie River Publishing, and what a way to debut! Y'all, I didn't want to put this one down. Starling has created some compelling characters, and he put them through the wringer in this story. 
Sentinel is the story of the Dreyer family, who having recently settled into a new home, begin to encounter a sinister and supernatural disturbance. When tragic events begin to occur in the small town of Bensalem, the Dreyer family knows there is a connection between those events and the strange entity stalking their home in the pre-dawn hours. 
But that ain't all, folks. The novel's prologue lets the reader know from the start that there's more to this story than some random monster terrorizing the Virgina countryside. You want to know what it is? You'll have to read the book. I promise you, it's worth it. 
Starling writes female leads surprisingly well. In this book, we get sections from Ellen Dreyer and Cheryl McNamara's points of view, and both prove to be complex and relatable characters. Starling has done an excellent job making the reader feel connected to both women. 
The suspense woven throughout this tale is remarkable, demonstrating Starling's deft hand at keeping the reader engaged. While reading this novel, a lingering sense of dread creeps in. You know bad things are going to happen, but you keep turning pages because you need to see just how bad it's going to get before the end. 
While reading, I wondered how Starling was going to tie together the various plot threads in the novel, and I was not disappointed. The fear and horror are upped in the last third of the book, and all the various plots come together in a shocking and horrifying conclusion. Starling shows off his chops at writing horror, with scenes that are disturbing, yet necessary. 
With this debut, Starling has singled himself out as an author to watch in the horror genre. I give this 5 out of 5 stars.