Taking Submissions: Yay! They're Here!
December 31, 2022

-

January 1, 2023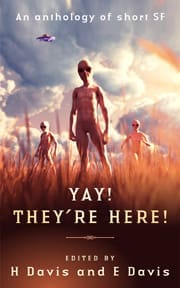 Deadline: December 31st, 2022
Payment: $5 and royalties
Theme: Speculative Fiction stories featuring a Human/Alien first contact that starts optomistically, but then, well, things happen.
Note: Reprints Welcome
I hereby announce that submissions are open for Yay! They're Here! We are looking for Speculative Fiction stories featuring a Human/Alien first contact that starts optomistically, but then, well, things happen. Remeber that scene in Mars Attacks where the Humans enthusiatically welcome the Martians? Or in Monsters vs. Aliens, where the Human president goes up to greet the aliems? Or teh opening to Mork and Mindy? How do things go wrong with the encounter, and how can your characters make it right? Or can they?
Length: the target range is between 2000-6000 words.
Deadline: December 31, 2022. Target date for publication is June 2023.
Pay: $5, with a share of royalties, and the chance to publicize your own website and other works in the biography and in our newsletter. Payments will be made by Paypal, unless other arrangements are made, and will be sent upon receipt of a signed contract.
We welcome new authors, and will work with all authors to bring their stories into the vision of the book. The final draft will be sent to the author for final approval.
Guidelines:
1) Submit your story as an *.rtf file attached to your cover letter. (Go to "Save As" and click on Rich Text Format or rtf.)
2) One-inch margins, double-spaced text.
3) NO TABS! Please use the paragraph formatting tool to indent the paragraphs, and either use CENTER to place your section dividers, or just leave them on the left side.
4) NO page numbers or other headers or footers on the pages!
5) Mark your italics with an underscore before and after the italics. Otherwise, your italics will not show up in the final draft.
6) On the first page, in the upper left hand corner, put your legal name, address, and email.
7) Below the title, put the name that you want the story to appear under. Use either your real name or a pen name.
8) On the subject line of the email, write "Yay! They're Here!:(your title)(your last name)
9) In the cover letter, write your legal name, the name you wish the story to appear under, the approximate word count, if this is previously unpublished or a reprint, your Paypal address, and anything else you want us to know.
10) Email to [email protected]
11) No multiple submissions. Please submit only one story at a time. If we reject your story, you may send another. Stories returned for submission errors may be resubmitted when those are corrected. Stories returned with a request for a rewrite may be resubmitted.
12) Final decisions will be made after the deadline.
13) Editors decisions are FINAL. Arguing with us will not get your story published, but it will get us pissed at you.
14) Address any questions to [email protected].
15) At the bottom of your cover letter, before your signature, write, "There are no green M&Ms in this manuscript." Put this in even if there are green M&M's in your manuscript.
Via: Dead Fish Books.
About the Author
Latest Posts
Stuart Conover is a father, husband, published author, blogger, geek, entrepreneur, horror fanatic, and runs a few websites including Horror Tree!