Taking Submissions: Space Brides, LLC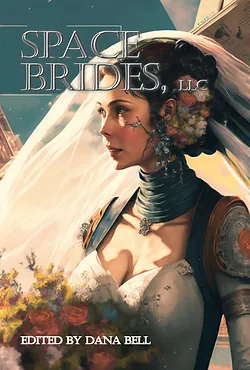 Deadline: June 30th, 2023
Payment: $15 and equal share of 50% royalties split between authors
Theme: Romantic Science Fiction that deals with… Space Brides, full details found below
Tired of those lonely dark nights? No one in your settlement suitable?
​
We are here to help! We will assist you in finding the bride or husband to keep you company, raise your children, and be your partner building a dream together.
​
Contact us directly and give us your specifications. Success guaranteed.
​
Looking to settle off world? We have husbands and wives searching for you. Have children who need a second parent? They're more than welcome.
​
Any children must be declared before the contract is signed and approved by the potential spouse/partner. This includes those seeking our services off world or anyone traveling. Failure to do so will require the child's travel to be paid for by the party who did not declare the minor before being allowed to meet the contractor. If either party does not approve the child, then another candidate will be sought up to three times.
​
Onsite ministers at no charge available for immediate marriage or up to six months after your future spouse's arrival. After that there will be an extra fee for our services, or you may hold a private ceremony with the official of your choice. Copy of marriage agreement/document required to be sent directly to us. This is to advertise our success rate and encourage others to use our services.
If the imported spouse is not suitable after a two-week trial period, it is the contractor's responsibility to find another potential candidate and annul the marriage, if there has been one. There will be no refund of the charged fee if this occurs.
​
Spouses sought for all legal adults and in all age brackets.
​
Our offices are available on Earth, Mars, the Asteroids, Titan, Io, and Triton.
Helpful staff will guide you through the steps and make certain all legalities conform to local ordinances.
​
Contact or walk into any of our offices 24/7. We are here to help you find that special someone and start a new future!
​
Other conditions apply. Please ask for more information before contract is drawn up and signed.
​
Contract signature required and once signed can't be withdrawn.
​GENERAL INFORMATION
​
Earth offices located in every major city. Mars capital city only. Asteroids and various moons, near the space dock.
​
Mix of occupations should be used, for example hydroponics techs, doctors, nurses, teachers, spaceship captains, miners, animal handlers, shop keepers. lawmen, or any other profession colonies might need.
Mix of technology for spaceships so there is no standard. Use imagination when creating cities or colonies. May collaborate with other writers if authors wish to interconnect stories. If this is done, please alert the editor in cover email.
​
Not all future spouses have to come from Earth. They can originate on any planet, moon, or station in the Sol system. They can be divorced, never married, widowed with or without children.
​
Special note here, humans are NOT going to travel into space without their pets, so dogs, cats, lizards, birds, ferrets, etc. highly encouraged.
​
Will also accept stories about vampires and shifters, any species.
​
Time placement to keep it consistent is the 25th-26th centuries or 2400-2599 Earth time. Confined to the solar system.
​
Remember there may be pirates, traveling shows/circuses, ministers, orphans, etc.

RECOMMENDED
​
Do research on what we currently know about the various planets/moons in the solar system and use that to create where your characters live. Remember, they will need spacesuits and enclosed travel vehicles or cities, underground tunnels, etc.
​
Read some books about mail order brides, either fiction or nonfiction. Most will be set in the late 1800s. This is to help get the feel for what type of stories to write. Also suggest reading about the orphan trains and the Harvey Houses as these can be adapted to add interesting twists.
​
Two viewpoints should be used. Traditionally in most romance that's his and hers. Will consider others IF they are well written and stay within the submission guidelines and accepted rating.
Submission Guidelines
​
Do feel free to pitch an idea if uncertain it would fit the theme.
​
Subject line should be Space Brides, LLC. – Pitch – author's name. Keep to paragraph in length.
​
Send to: [email protected]
​
These stories should be primarily Romance/Science Fiction in which Mystery, Paranormal, Fantasy, or Western elements can be included. Stories may contain anything from humor to drama.
​
Average length between 3K-7K. Anything longer, even if the pitch is accepted, must be pre-approved by the editor before being submitted.
​
Rating PG13. All sex off screen. No gore, erotica, fan fiction, extreme or bloody violence, rape, harm to children or animals. Attraction is acceptable but nothing beyond kissing, holding hands or hugs. Hell/damn okay, S**T borderline and F word will get the story rejected. Invented cuss words will be allowed. Faith, any type, is fine if important to the character and not preachy.
​
Stories must be formatted in Times Roman, 12 pt., double spaced with indents for paragraphs. Numbers must be written out unless they are an exception to the rule, for instance gun types. Use semi-colons and colons sparingly. This is an editorial preference. Dashes only for emphasis and again used sparingly.
No simultaneous submissions. No reprints.
​
In Subject line – Space Brides, LLC – Title of story and author name.
Send to: [email protected]
​
Submission dates April 1, 2023, through June 30, 2023. DO NOT submit prior to open date.
​
Payment:  $15.00 flat rate plus equal share of 50% of the anthology's royalties
​
Accepting Rtf, doc or docx. Anything else will be returned for reformatting. 
​
IMPORTANT: On the first page of the story please include: Name, mailing address, phone number, email, organizations the author belongs to, if applicable and approx. word count.
​
In the cover email, please include word count, a one-line synopsis of the story and one or two sentences about the submitting writer, or up to short paragraph. Nothing longer. If part of Realm Makers, Superstars or Whitstead please include as part of the requested information. If we have met at a convention, please include that as well.
​
All writers encouraged to send stories whether published or not. Diversity wanted and welcomed.
​
Via: WolfSinger Publications.
About the Author
Latest Posts
Stuart Conover is a father, husband, published author, blogger, geek, entrepreneur, horror fanatic, and runs a few websites including Horror Tree!