Taking Submissions: Rejected For Content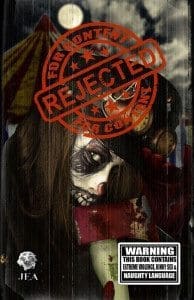 Deadline: July 31st, 2014
Payment: Contributor's Copy
JEA anthology for the stories that are so wicked, so gory, nasty, icky, vomitrocious, and slimy that anyone normal would reject them(and bonus stars if they have been rejected already!). These are the ones we want to show off in this disgusting book.
* Send a letter of intent by June 30 and let us know you have a rejected story (and who rejected it) or one that should be rejected.
* Send 5K-10K to above by JULY 31.
* Tell us who you are and give us a short synopsis and attach the story.
* We will pick the "worst of the best" or the "best of the worst" (?????) and contract for the work.
* It's for branding and to give those icky stories a home (because no one else will touch your disgusting story with damned good reason, you freakin' perv!) so we ain't gonna pay. We'll give you a copy, and hope you get nauseated and disturbed by the whole mess of stories.
* The cover says it all.
* Include a rejection letter (real or hee hee…we ARE writers) and move to top of the stack!
* Creatures, slime, gore, bloody fluids, Grind House,Machete, gross out, freaky, Devil's Rejects, Planet Terror,  House of the Dead, Rob Zombie,  disturbing, and anything that seriously was or should be rejected. Language ok by us. Sex rated R fine. Gore fine. Slime desired.
* Please edit for grammar and all. Have a reader catch screw ups and see if it's bizarre enough.
* We aren't gonna be nice…you need to be REJECTED!
Via: J Ellington Ashton Press.
About the Author
Latest Posts
Stuart Conover is a father, husband, published author, blogger, geek, entrepreneur, horror fanatic, and runs a few websites including Horror Tree!