Taking Submissions: Reclaiming Joy (Early Listing)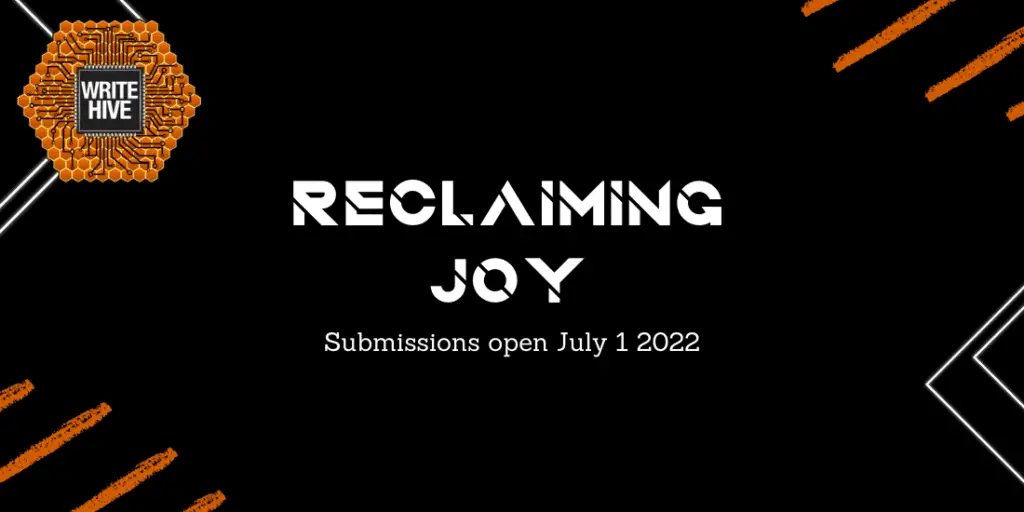 Submission Window: July 1st, 2022 to August 30th, 2022
Payment: $30 and a contributor's copy
Theme: Reclaiming Joy
This year marks the third year of the WriteHive annual conference! Each year we've grown in the number of panels and workshops offered, all thanks to the generous time and money donated by our community. A very special part of our conference has also been our anthology. In collaboration with Inked in Gray, we seek to publish powerful, authentic stories from members of our community. And this year is no exception.
In deciding on the theme, we wanted to highlight and empower the positive. The last few years have been difficult in a multitude of ways, and we wanted to bring attention to how communities and people have found ways to reclaim some kind of joy or happiness amidst struggles, tragedies, and oppression, for it is those moments that fuel the light in the darkness.
This upcoming anthology will officially open July 1, 2022, and we will be collecting submissions until August 30, 2022. We will be looking for stories that explore characters or groups reclaiming joy after difficulties, whether it be for themselves or others. Submissions will not be accepted prior to July 1, 2022.
Theme: Reclaiming Joy
There is no limitation to how you incorporate this theme into your work as long as the story falls within the Sci-Fi, Horror, or Fantasy genre. We encourage you to take the theme and show its manifestation beyond the physical, showing us something unique and engaging.
Submission Period: July 1, 2022 to August 30, 2022
Submission Cost: Free
Word Limit: 8K words per piece, not including addition information below
Genres: Fantasy, Horror, Sci-Fi
Submission Details:
Previously unpublished works
You may submit up to 2 pieces, but each work must be a separate submission
Simultaneous submissions are welcome, but please let us know if the work is accepted elsewhere
Include story as attached .doc (or .doc compatible format) please for ease of visual accessibility
You will be asked to copy a short query with bio and mission criteria into our form submission (see below for details)
Work must not have been previously published elsewhere
What to Include with Your Submission: *Please read carefully*
A 3 – 5 sentence bio with any relevant social media links (Social media is not required to participate)
A short snippet (1 – 3 sentences) detailing how and why your story is keeping with WriteHive's mission of Writing the Future We Need (Read more about our organization here). Our purpose is not to judge the quality of your explanation, but to get a short, concise feel of your story. (Submissions lacking this prerequisite will not be considered for the anthology)
Trigger warnings, if any. These will be used as a forewarning to our judges and will be used in publication. They will have no influence on the acceptance of your submission. Here's a list of trigger warnings you might use, in case you need some guidance. Feel free to add any others your story might have.
Trigger Warning Examples: Addiction, Pedophilia, Abuse, Substance Abuse, Animal cruelty, Queerphobia, Body horror (if it's not a book in the horror or grimdark genre), Bullying, Fatphobia, Terminal illness, Chronic illness, Mental Illness, Degenerative Illness, Cannibalism, Deadnaming, Eating disorder, Genocide, Gore, Violence (graphic, gun, etc), Incest, Miscarriage, Mass shootings, Police brutality, Racial bigotry/Racism, Religious bigotry, Self-harm, Suicide, Suicidal thoughts, Rape, Human trafficking, Torture
Payment: $30 per accepted piece plus one contributor copy (with opportunity for bonus royalties based on sales)
Rights: First edition exclusive anthology rights for the first six months of publication
Estimated publication date: Dec 2022 / Jan 2023
***Submissions will open July 1, 2022. If you would like more information about the anthology, please send us a message or email us at [email protected]
Via: Write Hive.
About the Author
Latest Posts
Stuart Conover is a father, husband, published author, blogger, geek, entrepreneur, horror fanatic, and runs a few websites including Horror Tree!