Taking Submissions: Real Stories of the US Space Force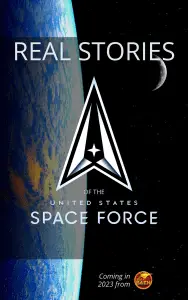 Deadline: January 22nd, 2023
Payment: New stories pay pro rate, $0.08 per word, to 10,000 words. Verse pays $50.
Theme: Science fiction short stories and fact articles illustrating current and future near-Earth space-related threats
The US Space Force has a PR problem. Several, in fact. It was not Donald Trump's idea. It did not steal its iconography from Star Trek. It is not just a lunatic scheme to expand the military-industrial complex by sending battleships into space. Yet judging from social media, many think all these things and more.
Space has become critical not only to the military but to the economy and all aspects of daily life, and as we stand at the dawn of a new age of space commerce, that's only going to intensify. Several nations have already developed capabilities to deny, degrade, and disrupt access to and utilization of space–based assets, whether to degrade US military capability or as a direct economic attack.
Like it or not, the militarization of space started long ago, threats are already up there, and wherever people and their interests go next, so too will go conflict, intrigue, heroes and villains, everything that comprises good stories.
WHAT WE ARE UP TO
Real Stories of the US Space Force will be a collection of science fiction short stories and fact articles illustrating current and future near-Earth space-related threats and dispelling misconceptions about America's newest service branch. It will be published by Baen Books in 2023
WHAT WE WANT
Stories that grab us from the start and stay with us for days. Scientifically plausible drama about people facing interesting challenges related to the US Space Force or more generally, the policing and defense of near-Earth space and related issues, now or in the foreseeable future (the next century or so).
Stories don't have to take place in space, involve the actual US Space Force, or be hard sci-fi, but they should help illustrate in some way how space technology shapes modern civilization in critical, often overlooked ways, how it is now or soon may come under threat, and how it might be defended now and into the future. See this page for ideas and background.
Stories should be scientifically plausible. Alien contact or wildly advanced physics is a hard sell, though we may well include one or two of the most excellent.
Stories can involve the military, civilian agencies, commercial interests, insurance companies, reckless endangerment, bureaucratic SNAFUs, cost overruns, inter-service rivalry, international gamesmanship, saber-rattling, pettiness, pig-headedness, micromanagement, office romance, LGTBQ+ issues, UAVs, cattle mutilation, or any point you want to make about the government, the role of the military, work-life balance, the militarization of space, the very model of a modern Major-General, or the cost of donuts in China, as long as it otherwise fits the bill.
Humor welcome (and desired) as long as the USSF itself isn't the punch line. Flag-wrapped jingoism is not required, but where applicable, stories should respect military culture and rank-and-file service personnel.
Verse: The Pentagon has designated a portion of John Philip Sousa's 1901 march, "The Invincible Eagle" as the "interim Space Force March", but there are no lyrics as yet (see https://www.dvidshub.net/audio/63938/official-interim-space-force-march).
You are invited to submit your lyric suggestion or craft service-appropriate verse in the spirit of Robert MacArthur Crawford's 1938 "The Air Force Song" (Off we go into the wild blue yonder…) for some other tune. Score not required.
Articles: Query first. We already have articles about the origins of USSF, its insignia, motto, uniform, etc. but if you have expertise or an idea for a fact article you'd like to write, contact us at [email protected].
WHAT WE DON'T WANT
No anti-government, anti-military, or anti-Space Force polemic.
No stories that don't illustrate or address reasonably plausible real-world threats, concerns, and space-rated issues in need of governance. A story about a fictional Space Coast Guard conducting on-orbit health and safety checks is probably preferable to one about a realistic US Space Force response to alien invasion, but don't stifle yourself. They might still plan for invasion, right?
PAYMENT
New stories pay pro rate,  $0.08 per word, to 10,000 words.
Verse pays $50.
HOW TO SUBMIT
One story submission only — make it your best!
No simultaneous submissions.
Submissions accepted until January 22nd 2023 or we have all the great stories we need–early bird gets the worm.
Submit stories in standard manuscript format, submitted as Word, RTF, or ODT (LibreOffice) format.

Use underline to indicate italics. It's easier to see.
Em dashes should touch the words on both sides. Use either double-hyphen or em-dashes consistently, but not both.
Use double-spacing; do not double return between paragraphs.
One space after periods.

Send story as an attachment to [email protected] with a subject line starting with "STORY", then your name and the story title.

Send queries to the same address with a subject line starting with "QUERY"
Via: C Stuart Hardwick.
About the Author
Latest Posts
Stuart Conover is a father, husband, published author, blogger, geek, entrepreneur, horror fanatic, and runs a few websites including Horror Tree!