Taking Submissions: Raygun Retro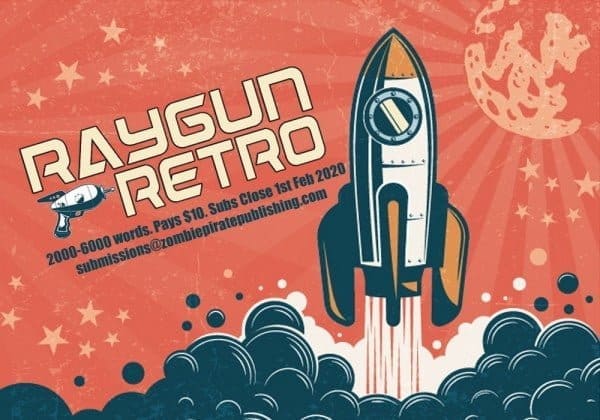 Deadline: February 1st, 2020
Payment: $10
RAYGUN RETRO: A Science Fiction Anthology is now open for submissions. We're seeking science fiction stories 2000-6000 words in the style of 50s and 60s classic science fiction. Send us your best stories reminicent of Heinlein, Asimov, Clarke, Dick, Bradbury, and Vonnegut. Tell today's stories through the lens of yesteryear.
One submission per author.
Submissions close 1st Feb, 2020. Pays accepted stories $10 and an ebook copy.
Send your stories to [email protected]
No simultaneous submissions or reprints.
SUBMIT YOUR STORY
Submitting to Zombie Pirate Publishing is easy. Simply email your manuscript to [email protected] following the submission guidelines at the bottom of this page.
We DO NOT accept reprints or simultaneous submissions.
Your email should have your name, the story title, the word count, and the anthology you are submitting towards in the header and the body of the email. The attached word document should be labeled with this information as well.
For example: 'Daddy-Adam Bennett-Full Metal Horror 2-6500 words.doc'
Your submission should have a Word document attached to your email. Do not paste the story into the body of your email. Most programs including Google Docs will allow you to save your finalised work as a word document before submission.
If you are unsure exactly what to do to set up your file correctly, download this document before you start writing. It is set up to be ready to go ASAP. Simply highlight the title, or author name or body of the document to replace with your own text. Google Docs version is available here for those without Word. Simply copy the document and change the name, and then click the 'download as' option in the file menu, and select word doc. This will save as a word document which you can then attach to your email.
     SUBMIT YOUR NOVELLA
For Novella Submissions, please do not send us the entire manuscript. Instead send us a 500 word (max) synopsis of your novella, including genre, themes, and plot. Your email should include this synopsis, a short biography (200 words max), and the first ten pages of your novella (formatted following the guidelines below). If we require the entire manuscript, we will contact you for the rest of the document.
No reprints or simultaneous submissions.
     PAYMENT
Zombie Pirate Publishing does not charge authors for submissions.
Thanks to our Patreon Page we currently offer $10 USD and an ebook copy of the publication to authors included in our anthologies that feature a deadline. To find out more, or to help support us, visit patreon.com/zombiepiratepublishing and read about our exciting rewards tiers and the goals we are working towards.
At present we are not offering payment for submissions accepted into our flash fiction or poetry anthologies.
Novella publications will be paid a percentage of royalties on all sales as well as a small advance on royalties.
If we accept your work for entry to an anthology, Zombie Pirate Publishing requires Exclusive First Publishing Rights for one (1) year and then all rights revert to the author. ZPP holds the rights to novellas we publish for two (2) years.
BASIC GUIDELINES
11 or 12 point Arial or Times New Roman.
Indent paragraphs using the ruler at the top, not the tab button or spacebar.
Single spaces after full stops.
Double inverted commas for speech, single inverted commas otherwise (this includes quotations within speech (ie. "Tommy said, 'Go see Tina,' so here I am," said Frank.)
Double line spacing throughout document (use the spacing option in your word processor, not double enter between lines.)
No headers or footers or page numbers.
Title and Authors Name/Pseudonym inside the document only.  If you are using a pseudonym for your submission, please include your real name in the email and mention that you use a pseudonym. If you want to give us additional information like email and address and phone number please include it in the email, but this is not necessary until after we accept your story.
We use British English Spelling (i.e colour, realise.) If your submission is in American English we won't reject it on that basis, but it will be changed during the editing process if your submission is accepted for publication.
It is a good idea to read your submission out loud (to yourself is fine) before submitting. This will help you find small inconsistencies that reading won't pick up alone.
Via: Zombie Pirate Publishing.
About the Author
Latest Posts
Stuart Conover is a father, husband, published author, blogger, geek, entrepreneur, horror fanatic, and runs a few websites including Horror Tree!