Taking Submissions: Penny Dread Tales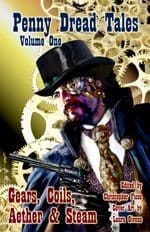 Penny Dread Tales
DEADLINE: March 31st 2011
PAYMENT: None Listed
Theme: Steampunk
Genres: Sci-Fi, Horror, Paranormal, Fantasy
Style: Open
Length: 2,000 ~ 7,500 words
Submission Deadline: March 31st,, 2011
Publication Date: April 30th, 2011
Send us tales of science and high adventure! In a Victorian age that never quite happened, clockwork magic and the mysteries of the Tesla coil sent people and airships to all four corners of the earth. Bring us stories of steam and mysteries of brass widgets that defy belief.
Submit by e-mailing: [email protected]

[via: RuneWright.]
About the Author
Latest Posts
Stuart Conover is a father, husband, published author, blogger, geek, entrepreneur, horror fanatic, and runs a few websites including Horror Tree!