Taking Submissions: Our Write Side Steampunk Anthology 2019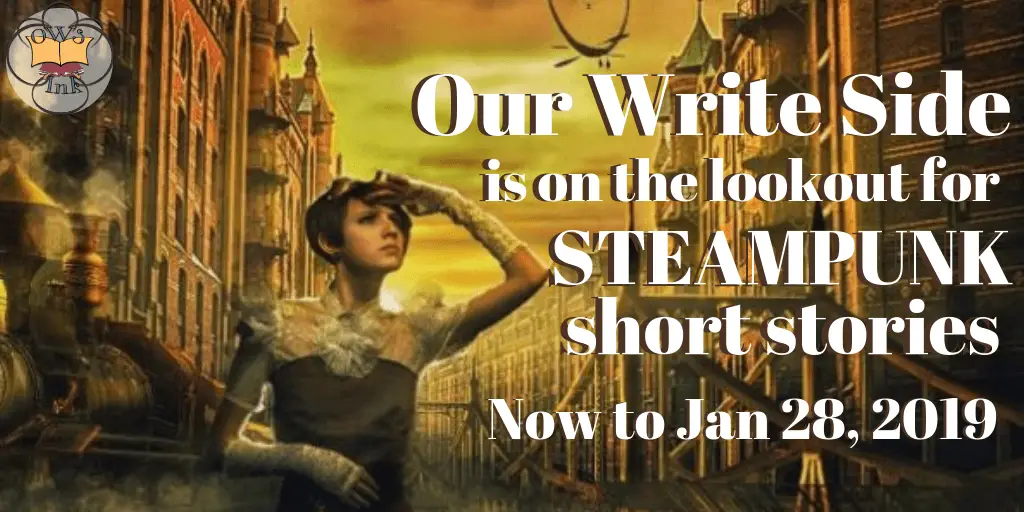 Deadline: January 28th, 2019
Payment: Authors will receive a share of 30% of ebook royalties and 8% of print royalties. Exact shares will be determined by the number of stories accepted and will be stated in the contract for selected authors.
Between now and January 28, we're accepting short stories in the Steampunk genre. We're looking for stories between 3,500 and 10,000 words, and that cover a wide range of Steampunk topics.
In brief, Steampunk began as a literary genre loosely inspired by the real or imagined cultures, events, and technologies of the Industrial Era. It can take various forms, from an alternative history, to a dystopian future, to a complete fantasy world untethered to our sense of time and space. In more recent times, Steampunk has leaped from the pages of books and into people's lives in the form of special events, elaborate costumes, and dedicated "sports." If you are looking for a more in depth explanation, you can check out this brief intro or all of the wonderful posts on SteampunkJournal.org.
Though many of the works in the Steampunk genre take place in London during Victoria's reign, don't let that limit you. The steam era happened all over the world and with different consequences. The "scientific romances" of the 19th century are a wonderful place to get inspiration, and those stories take their characters into the center of the earth, into outer space, and through time. So get ready to spread your pneumatic wings and let your imagination fly!
One of the amazing things about Steampunk is how it can be mashed up with a variety of genres. So bring us your horror, your romance, your adventure, and everything in between.
All submissions must be submitted to [email protected] before midnight Eastern time on Jan. 28. Your submission email should include:
Inquiry/SteampunkAnthology/Story title on the subject line.
The body of the email should include your full legal name, author name, the title of the submission, mailing address, and email address you would like the contract sent to if you are accepted, as well as a short one paragraph synopsis of the story or blurb along with the word count.
Please attach your third person bio, the manuscript, and a high-resolution headshot.
Entries that do not follow the standard formatting and submission guidelines listed above will be deleted without being read. Unfortunately, we will not be able to offer feedback on rejected stories at this time. Selected authors will receive a gratis e-copy and a portion of royalties to be determined after the deadline.
Via: Our Write Side.
About the Author
Latest Posts
Stuart Conover is a father, husband, published author, blogger, geek, entrepreneur, horror fanatic, and runs a few websites including Horror Tree!