Taking Submissions: Longleaf Review Fall 2020: Harvest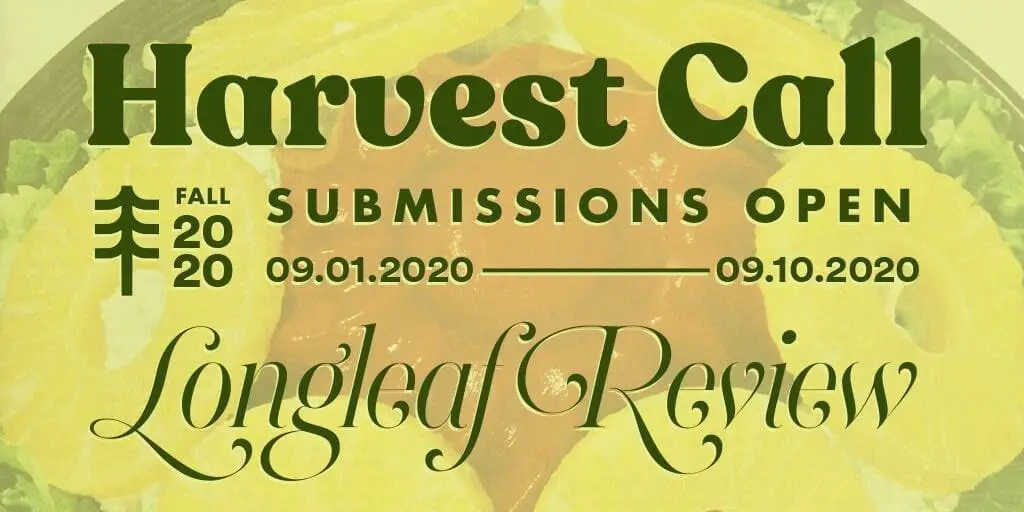 Deadline: September 10th, 2020
Payment: $20
Theme: Your interpretation of the harvest
What do you pull from your body? What do you pull from the ground? What do you grow? Do you reap what you sow?
For Longleaf's fall issue, we're looking for your interpretation of the harvest. Harvest as a cornucopia that brings people together—across a dining room table or across screens in times of crisis. Harvest as a terror—zombies in search of brains and bones, body snatchers in a graveyard. Harvest as a life — after loss, grief, sorrow, betrayal, illness, agony; an invitation to the underworld with Hades.We want your comfort and your terror, your sacrifices and your offerings. When you hear tapping at your window late at night, is this the prelude to a reaping?
Give us taste and texture; the excitement of the planting; the growing; the bloodlust; the hunger. Give us fallow fields and baskets overflowing. Give us walls teeming with unwanted life and tongues red with poison berries.
We want to explore harvest as fantasy, as memory, as danger or desire. We want to read about the ways we lay claim to things—through collection, through curation. We want the hunter and the hunted, the invited and unwelcome. At a time when fear looms large and small comforts mean more than usual, we want to know what you're gathering into your arms and what you wish you could cast off.
In preparation for this themed call, our staff will be running a series of 20-minute bursts of creativity through Zoom. To sign up for our first one, on August 8, 2020, please click here.
We will be open for submissions September 1-10. Please read our general guidelines and submit below.
Submission Period
Submissions will open from September 1 to 10.
You can generally expect a response time of 2-3 months. We consider each submission carefully, and this time period ensures that your work will get the attention it deserves.
Submission Guidelines
For fiction and CNF, you may submit one piece <5,000 words or three flash pieces <1,000 words each. For poetry, you may submit 1-5 poems.
We'll accept only one submission per person, so please do not submit in multiple categories.
We only accept submissions via the Google Forms below; please do not email your submission to us.
We don't accept reprints unless solicited.
Simultaneous submissions are accepted, but please let us know if a piece is published elsewhere. Be sure to formally withdraw the piece(s) via email to [email protected] with the title and genre of the piece and "WITHDRAW" in the subject line.
We only accept .docx files. Please include your email address on the first page. We like Times New Roman & 12pt font. Otherwise, it's all good.
If your piece is accepted, please wait 6 months before submitting to us again. If it's not accepted, you're welcome to resubmit as soon as we open again for submissions.
Submission Terms
Accepted pieces may be subject to substantive and/or copy edits. Editing is a collaborative process with the author. We won't make any major changes without your approval.
We pay $20 per author in fiction, creative nonfiction, and poetry. All authors in the current issue will also receive free priority registration for our next Weekend Workshop Intensive. We are unable to pay for reviews at this time.
We've pledged with VIDA's #saferLIT campaign. We will not tolerate any form of abusive behavior or bigotry in the stories we publish, nor the authors who write them. This means no anti-Semitism, racism, sexism, misogyny, transphobia, homophobia, fatphobia, Islamophobia, xenophobia, or stories that in any way perpetuate negative stereotypes.
Longleaf Review takes one-time non-exclusive electronic rights and archival rights to your work. At this time we do not mail out contracts. Currently, by submitting to us you are agreeing to the above terms.
Via: Longleaf Review.
About the Author
Latest Posts
Stuart Conover is a father, husband, published author, blogger, geek, entrepreneur, horror fanatic, and runs a few websites including Horror Tree!