Taking Submissions: Grim & Dread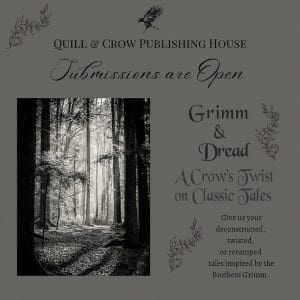 Deadline: October 5th, 2021
Payment: US: $40 and a contributor's copy / non-US: $45
Theme: Short stories that give Grimm's Fairy Tales a unique and creative twist
Quill & Crow Publishing House is putting together their third anthology just in time for the end of the year when the leaves are dead and the wind becomes chill.
For this anthology, we are looking for short stories (5,000 – 8,000 words) that give Grimm's Fairy Tales a unique and creative twist – extra points for maintaining a Gothic feel. We are excited to see some of the less common stories come to life and even more excited to see some of the horrific aspects of the original tales come back in a fresh way.
Things we are looking for:
deconstructed Grimm's tales

gothic horror

historical horror

dark folklore

gothic/macabre elements

modern adaptations considered ONLY if they maintain a Gothic feel
Things we are not looking for:
young adult

extreme horror

rape/child abuse

heavy sci-fi

overtly modern adaptations
​
Submission Requirements
Please note: Submissions that do not follow requirements will not be considered.
1. We are accepting original works only. You must own the copyright to your submission.
2. Submissions period is from August 20 – Oct 5, 2021. Please submit all stories to [email protected] with the subject line: Grim & Dread / Your Title / Genre / Title of the Tale You're Retelling/Twisting.
2. All submissions must be in English and follow standard MLA formatting (double spaced, 12-point Times New Roman font). Work must be polished and edited (to the best of your ability). Please submit as a .docx file and include your name, title, and word count on the front page.
3. Story length is 5,000 to 8,000 words. Submissions below 5,000 words and above 8,000 words will not be considered.
4. Accepted authors will receive compensation per contract agreement (US: $40 + author copy/non-US: $45 + ebook author copy).
5. If you have questions, please contact us via email at [email protected]