Taking Submissions: Death in the Mouth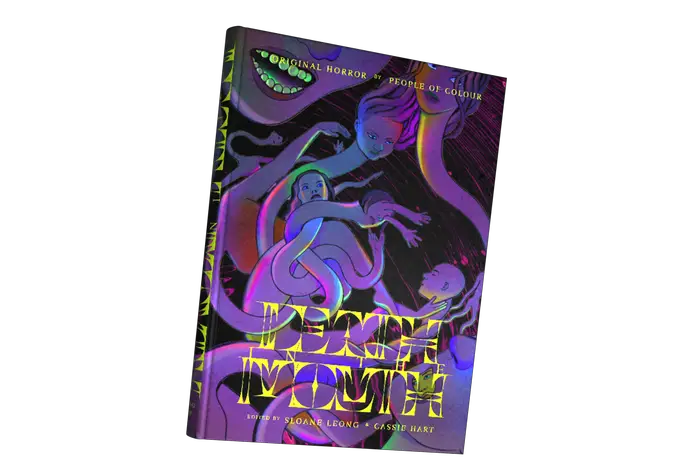 Deadline: November 1st, 2021
Payment: 8 cents a word
Theme: a horror anthology showcasing BIPOC and other ethnically marginalized writers and artists from around the world.
SUBMISSION GUIDELINES
What is horror to those living in the margins?
Where terror is systematized and in the very air everyone happily breathes?
A misheard word.
The thud of boots.
An impossible color.
A foreign growth.
DEATH IN THE MOUTH is a horror anthology showcasing BIPOC and other ethnically marginalized writers and artists from around the world. It will feature twenty prose stories spanning from the distant past to the far future, real and fictive worlds, all while exploring new and unique manifestations of horror. Each story will also be accompanied by an original black and white illustration by a unique artist.

WHAT WE'RE LOOKING FOR:
Original manifestations of horror, dread, grief, fear, and anxiety. Embodiments of mania and displacements of faith. Harrowing ecstasy and debilitating hope. Consuming, relentless love. Transgressions of the body, the spirit, and the community. Quiet, creeping absurdities. Unique and terrifying alien mythology from the future. Weird and unsettling folklore from secondary worlds. Quiet contemporary techno-panic.
If that sounds broad, that's because it is: our tastes run wide wide. We want to see stories written from places of boldness and tenderness. Stories that nauseate or introduce the smallest of psychic itches. Stories that span interstellar time or small, restrained fragments. Mixes of other genres (speculative, contemporary, "literary", historical, etc) are great, but horror should be the focus.
A few writers with the vibe we enjoy:
Tananarive Due, Helen Oyeymi, Kazuo Umezu, Augustina Bazterrica, Brian Evenson, Yoko Ogawa, Nathan Ballingrund, Carmen Maria Machado, Toni Morrison, Richard Van Camp, Octavia Butler, Stephen Graham Jones, Samuel R Delaney, Junji Ito
WHAT WE DON'T WANT:
Overused tropes and story shapes.Didactic, fable-like stories.Generic or "classic" monster types.Anything not horror.Submissions from people who aren't BIPOC or, if you don't use that term in your country, don't experience marginalization based on your ethnicity.(If in doubt about the above, just send it!)
PROSE GUIDELINES:
Payment: 8 cents a word
Payment schedule: within 2-4 weeks of contract signing
Story Length: 1000 to 6000 words
Submission Period: September 1st to November 1st
Expected Release Date: October 2022
Reprints are acceptable as long as they've not been in prior paid publications (eg. if you've self-published them on a blog or zine, etc. that's fine) Multiple subs are fine but please send us your BEST. Simultaneous submissions are also fine but let us know if you've sold it elsewhere and withdraw ASAP, please.
Accepted pieces will be edited for grammar and punctuation. If we require more substantial edits, the editors will work with you to achieve a draft of the story we are both happy with.
We're looking for first publishing rights, as well as exclusivity until the anthology is published. After that, you're welcome to reprint your story in other venues or your own collections.
We are also holding at least one spot for a new, unpublished writer. If you've never been published before, let us know in your cover letter. Writers without a formal or higher education are encouraged to submit. We also highly encourage writers who are incarcerated, houseless or experience other constraints to submit. If you know writers who would fit this open call but are unable to access the means to submit, send us their contact info so we can make an effort to reach them.
SEND TO:
Send your stories as a .doc, .docx or .rtf in Shunn formatting to [email protected] with the subject "SUBMISSION – TITLE – AUTHOR". In the body of the email, include a short bio, whether this is a simultaneous sub or reprint & optional cover letter if there's anything about your relationship to your submission you'd like to share with us. (eg. If there are specific cultural references you think are relevant to appreciate your story, we'd love to know!)
ART GUIDELINES:
We want to commission original art for this anthology. Pieces will be full-page 6×9 black and white illustrations. We will purchase rights to First Use and exclusivity until the anthology is published.
Send your portfolio to [email protected] with the subject "ART – ARTIST NAME".
Payment: $250
Dimensions: 6×9"
Via: Death in the Mouth.
About the Author
Latest Posts
Stuart Conover is a father, husband, published author, blogger, geek, entrepreneur, horror fanatic, and runs a few websites including Horror Tree!