Taking Submissions: Give – An Anthology Of Anatomical Entries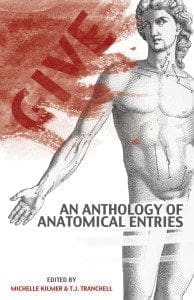 Deadline: Sept. 30th, 2014
Payment: $10 and two contributor's copies
GIVE is the first in a two-part anthology about organ donation. The stories in GIVE will focus on the donor. Publication date is set for February 14th, 2015 (National Donor Day).
General Info: We want you to think beyond the traditional organs that get donated. Consider those parts of the human that come in pairs but aren't necessarily donated. Everything is shareable, transplantable and rejectable, if you are creative.
We will be including only one story per body part, so if you are going to write about a more common body part, the story had better be special. Stories should be darker in nature. Horror, sci-fi, and dark humor are all appreciated.
Reprints: Reprints will be considered, but previously unpublished workis preferred. Please inform us if you are submitting a reprint. You must hold reprint rights to the work.
Word Count: Submissions should be between 500-2,500 words (yes, we want these short and to the point).
Submission Instructions: Submissions should follow standard manuscript format, and be sent as .doc, .docx, or .rtf files via email only. Please send to [email protected] with the subject: GIVE-(the body part you are writing about)-your name
Rights: One year exclusive worldwide online, ebook, and print rights. The Publisher assumes no rights to the Work beyond those essential to publishing and promoting the Website. All characters, intellectual properties and universes of the Work shall remain the property of their original Authors
Submission deadline: All stories must be submitted before 11:59 p.m. on Sept. 30th, 2014.
Fee: There is no fee to submit to GIVE.
Payment: $10 and two free contributor copies of the anthology (GIVE one to a friend!). All other profit made will be channeled into marketing efforts for this and the second anthology. A portion of the profits from second anthology will be donated to the National Foundation for Transplants.
Download this submission call [.pdf]
ABOUT THE EDITORS
Michelle Kilmer is a writer, publisher, and web designer from Seattle, WA. Her works include When the Dead and The Spread. Two of her short stories have been published in the anthology Roms, Bombs & Zoms from Evil Girlfriend Media and the Crypticon De-Compositions 2014 anthology from Blysster Press. Upcoming works are varied and many.
T.J. Tranchell is currently pursuing a Master's degree in literature at Central Washington University. He has been published in Niteblade, Mad Scientist Journal and Despumation. His academic pursuits include works on Stephen King, John Carpenter's The Thing, and the cultural phenomena surrounding The Amityville Horror. A former journalist, Tranchell spends most of his free time with his wife and son.
QUESTIONS
If you have questions about this anthology and/or submission specifics, please write to Michelle at [email protected]
ANSWERS
Will there be interior art or can I submit interior art?
No, this anthology will be text only
Can I make up a body part?
As long as there are two of it in the body, they have a specific function, and you write from the donor's perspective, DO IT. We do want some nice healthy stories about the human body though. So let us not all make up bits and pieces. If you aren't sure, please email and ask us!
Does my donor have to be human?
Absolutely not. Alien life forms fall into the sci-fi category and we'd love to read about them.
Does my donor have to survive?
Of course not! Giving away pieces of ourselves can go horribly wrong. Blood loss, infection, evil doers…this wouldn't be a horror anthology if everyone lived!
RESOURCES
Please use the links below for information on organ donation. A little reading could provide inspiration!
About the Author
Latest Posts
Stuart Conover is a father, husband, published author, blogger, geek, entrepreneur, horror fanatic, and runs a few websites including Horror Tree!