Taking Submissions: Ghostlore: An Audio Fiction Anthology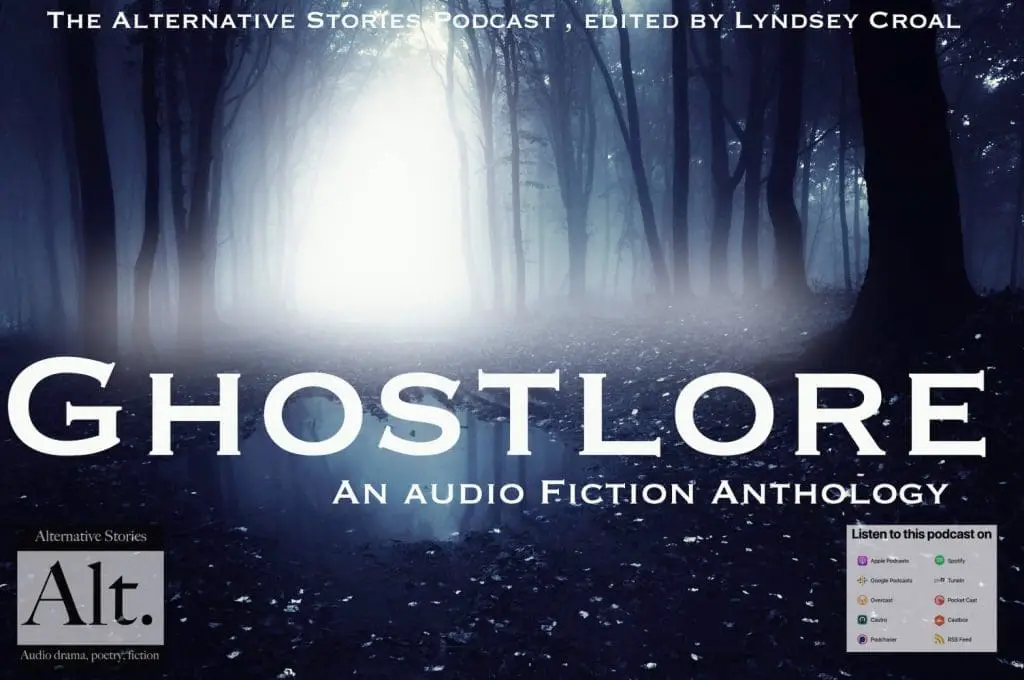 Deadline: February 6th, 2022
Payment: £0.04 per word, with a minimum payment of £10 per accepted piece.
Theme: Original stories related to ghosts AND folklore
Note: Apologies for the short window, I only stumbled across this one just now
I'm delighted to launch an exciting new project in collaboration with the fantastic Alternative Stories & Fake Realities podcast:
GHOSTLORE: An Audio Fiction Anthology
And we're now open to flash fiction submissions!
Ghostlore is a genre of folklore concerning ghosts, and I can't wait to read creative responses to this. The anthology will form part of Alternative Stories & Fake Realities' Season 6, in Spring 2022, and will link to a folklore discussion panel on a similar theme.
---
WHAT WE'RE LOOKING FOR

Original stories related to ghosts AND folklore – stories should contain at least an element of both. We would love to see stories representing folklore from around the world.
For this call we're looking for fiction 800 words or less, with a preference for shorter pieces. We're looking for a combination of micro-fiction and flash fiction pieces, and will be able to accept more shorter pieces than longer pieces.
Stories from a range of genres are welcome – as long as they contain the elements mentioned above! Whether funny, dark, heartbreaking, weird, uncanny, atmospheric, gothic, or horror, I want to read them all!
Stories that would translate well to audio. (Experimental structures may be a hard sell for this reason.)
New and established writers welcome. The anthology will be a mix of invited writers (to be announced soon) and open submission (roughly 30% invited/70% open submission).
We particularly welcome submissions from underrepresented writers.
TERMS AND PAYMENT
Payment: £0.04 per word, with a minimum payment of £10 per accepted piece.
Publication format: The selected stories will be read and recorded by professional actors and compiled into an audio fiction anthology to be fully produced by Alternative Stories & Fake Realities (more about the podcast below). The anthology episode will be available on all major podcast platforms, including Spotify and Apple Podcasts, and shared widely on social media channels. Authors will also be given an MP3 recording of their stories for their own future use.
Rights: All authors will retain full rights to their work.
Simultaneous submissions are welcome, but please inform me as soon as possible by email if accepted elsewhere.
Multiple submissions: you may submit more than one piece, up to a total of 800 words per author.
Preference will be given to original, unpublished work, however reprints will be considered if you retain rights to the work and they meet the criteria well. Please note in your submission email if the story is a reprint.
Edits may be requested for publication, but proposed changes would be fully discussed with the author.
HOW TO SUBMIT
Submissions open Tuesday 18th January 2022
Submissions close Sunday 6th February 2022 at Midnight GMT
We will be aiming to make final decisions by the end of February 2022 for publication in Spring.
Send via ghostloresubmissions [at] gmail [dot] com
Please put 'Ghostlore Submission': [Title] in your email heading, and include the title and wordcount in your covering email.
Please include in your covering email a two or three sentence bio, with social media or website links.
Stories attached as .doc or .docx, double spaced, size 12 font, readable font e.g. Times New Roman.
File name should include the title of your story.
Content warnings are appreciated but not required.
Thank you for trusting us with your stories!
---
ABOUT THE PODCAST
Alternative Stories & Fake Realities is a podcast and spoken word audio production company making original audio drama, poetry and fiction. They work with writers, actors, musicians and sound designers to bring stories to life. They are a fantastic podcast with a global reach, and are free to listen to on all major podcast platforms. Featured creatives on their podcasts and panels include Terry Windling, Salena Godden, Chris Beckett, Zoe Gilbert, Emily Inkpen, Signe Maene, and many more.
Here's a playlist of some of their previous panels and fiction to get an idea of the style of productions they have done in the past: Folklore and Fairytale on Alternative Stories – Episode List on Podchaser
Find out more about them on their channels here:
Via: Lyndsey Croal.
About the Author
Latest Posts
Stuart Conover is a father, husband, published author, blogger, geek, entrepreneur, horror fanatic, and runs a few websites including Horror Tree!