Taking Submissions: Escalators to Hell: Shopping Mall Horrors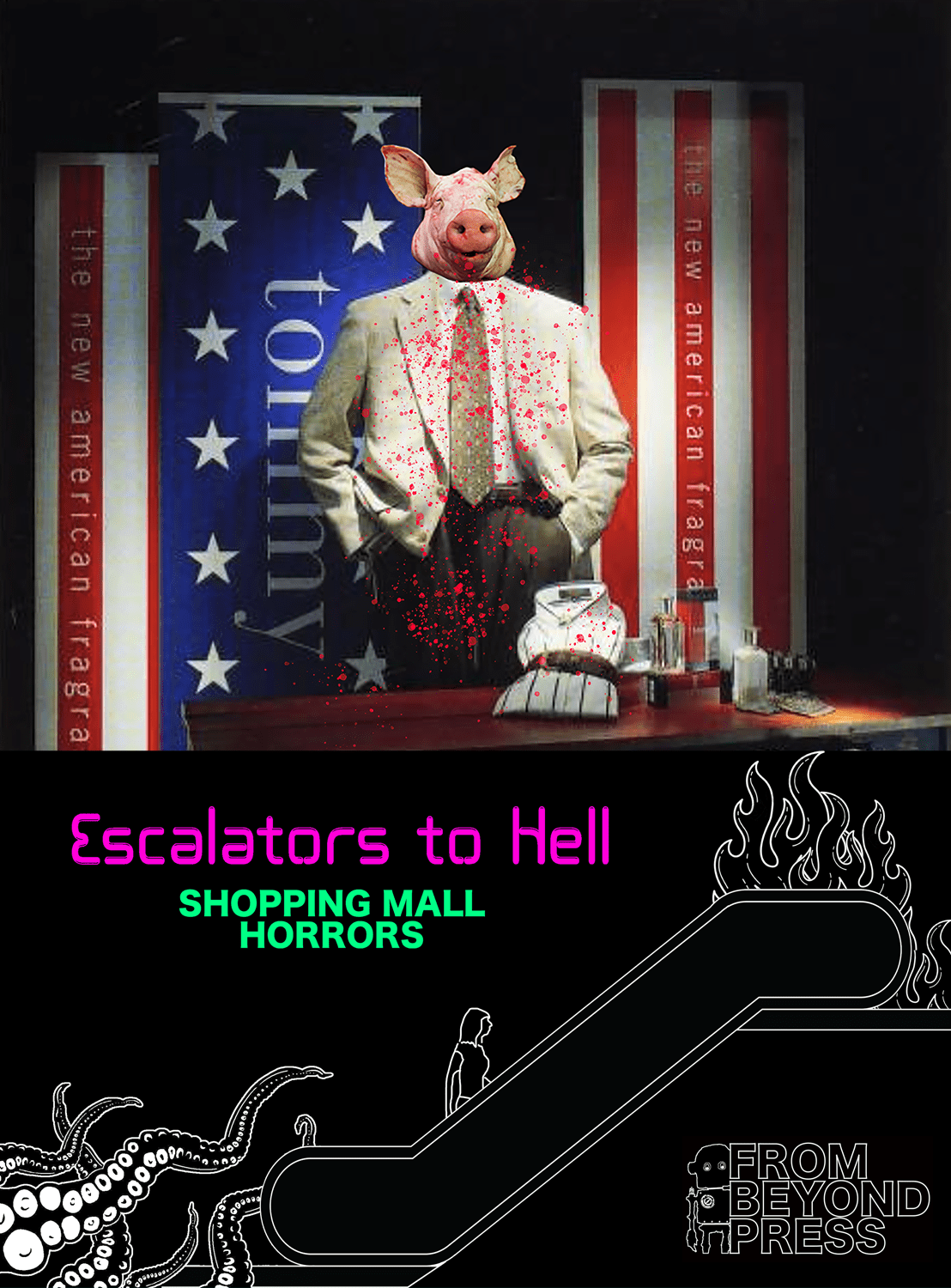 Submission Window: July 30th to August 31st, 2023
Payment: 5 cents per word
Theme: Horror that takes place in shopping malls
There's something amiss at the mall. Elderly mallwalkers are being devoured by an unseen creature. A mad scientist is building a doomsday device out of Radio Shack parts. Post apocalypse, survivors attempt to recreate their 90s memories in a ruined mall. Each day when a boy checks Google Maps, the fancy new mall looks bigger—and closer to his village. Escalators to Hell: Shopping Mall Horrors is a new collection of horror and dark sci-fi stories about shopping malls past, present, and future.
Emerging in the United States as a paragon of post-World War II prosperity, the shopping mall was imagined as a cheery, futuristic, well-designed alternative to the messy and hazardous downtowns of old, providing housewives and children with a safe space to shop and entertain themselves. Malls served middle-class suburbanites dependent on cars and eager to spend their disposable income on mass produced goods.
The mall has often been a subject of derision as a harbinger of cultural zombification and whitewashing. As the decades have passed, the mall has declined in prestige but also become more accessible to broader groups of people in the US. Shopping malls, too, have spread to most countries around the world. Pop-culture has viewed malls through many lenses: optimist and innovative, symbolic of racist city planning and policing, a source of nostalgia for freer spending and youthful naivety, a place for community, and a signifier of a nation's wealth and connections to a global consumer network.
But in this collection, one thing is universal: something ominous is happening at the local mall. Escalators to Hell: Shopping Mall Horrors is a document of one-stop shopping gone wrong.
Kickstarter
We're raising $3500 to help defray the costs of publication—but not completely! This is barely half of what we'll need. We're just asking for some help in exchange for fabulous rewards like copies of this and other From Beyond Press titles.
20 Stories by 20 Authors
We've invited five featured authors to lead this expedition into suburban terror: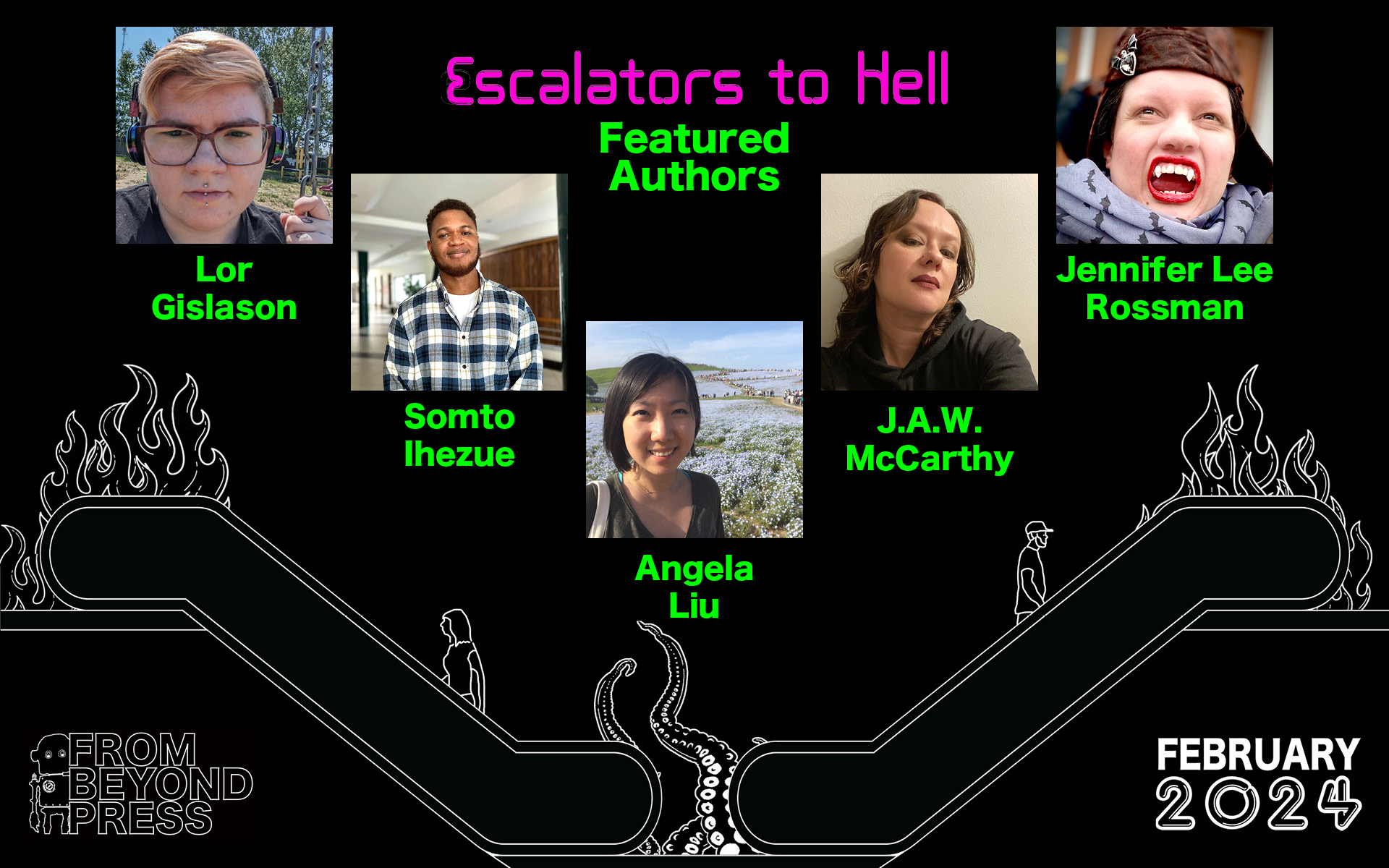 Lor Gislason – Editor of Bound in Flesh: An Anthology of Trans Body Horror and author of Inside Out and other works
Somto Ihezue – British Science Fiction Award and Nommo Award nominee poet and short story writer whose stories have appeared in publications such as Tor: Africa Risen Anthology, Podcastle, Escape Pod, Strange Horizons, Nightmare Magazine, and POETRY Magazine
Angela Liu – Poet and short story writer whose work has appeared in publications such as Clarkesworld, The Dark, Nightmare Magazine, and Strange Horizons
J.A.W. McCarthy – Bram Stoker Award and Shirley Jackson Award nominated author whose short fiction has appeared in publications such as Vastarien, PseudoPod, Apparition Lit, and The Best Horror of the Year Vol 13
Jennifer Lee Rossman – Pushcart and Utopia Awards nominated author whose stories have appeared in dozens of anthologies
The rest of the book (around 15 more stories) will be chosen from the open call for submissions, which will run from July 30 to August 31.
Setting/Tone/Themes
Submitted stories should have some horror elements, though the tone could be horrific, serious, campy, awe-inspiring, cozy, tragic, or humorous, etc. However, the story has to be set in a mall, or the concept of a mall has to be important to the plot. Stories could take place in the recent past (1950s onward), in a futuristic mall, or in the present, such as a neo-gothic tale set in abandoned or declining malls.
The stories can be located anywhere in the world. For Americans, the traditional middle-class, suburban shopping mall might be in decline, but that may not be the case in every country, and people around the world might have various perspectives on the shopping mall. Furthermore, Americans of different classes, races, and ability might view the mall differently than white middle-America. We are eager to read diverse takes on the "shopping mall."
The shopping mall should not be incidental to your story; stories that make thoughtful, innovative use of the elements unique to malls as either a physical place or an abstract concept are more likely to be accepted.
Commitment to Diversity
We intend to create a diverse anthology and encourage members of the BIPOC, disabled, LGBTQIA+, or other marginalized groups to submit stories. When presented with otherwise equally good submissions, we will prioritize stories by marginalized authors.
How to Submit
Please use Shunn manuscript format (either modern or classic) as much as possible (see exceptions below). Proper Manuscript Format for Fiction Writers | William Shunn
Try to proofread your story as much as possible, but minor errors or some awkward sentences will not cause us to automatically reject your piece.
Please include your pronouns and the name by which you would like us to address you. You do not have to give us your legal name at time of submission.
You do not have to give us your address or contact information except for your contact email at time of submission.
We don't need long cover letters, but if you want to, you can highlight any special expertise or relationship you have to your story.
You may include a link to your website or list of previous publications, but this isn't necessary—we love publishing new voices, so we encourage previously unpublished writers to send something.
Your email subject line should be "Submission: TITLE – LAST NAME".
Please, do not send a link to a Google doc of your story. Attach your story as file types .doc, .docx, or .rtf.
Send your story as an attachment to frombeyondpress [at] gmail [dot] com
Quick Reference
Word count: stories of 1000-5000 words
Pay rate: 5 cents a word
Kickstarter campaign: June 15 to July 15, 2023
Submissions open: July 30 to August 31, 2023
Reprints: Not accepted
Simultaneous submissions: OK, but let us know if you get accepted elsewhere
Multiple submissions: Not accepted
AI submissions: Rejected/banned/mocked publicly/jettisoned into the sun
Book release: February 2024
Via: From Beyond Press.
About the Author
Latest Posts
Stuart Conover is a father, husband, published author, blogger, geek, entrepreneur, horror fanatic, and runs a few websites including Horror Tree!