Taking Submissions: Emby's Bestiary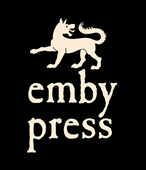 Deadline: July 1st, 2015
Payment: $25.00 and electronic copy
An Emby Bestiary
This will be Emby Kids first anthology as well as Emby's first cover contest!
Did you have a favorite story about monsters when you were a kid? One of mine was a hillbilly yarn about a monster that stalked the woods on a mountain near our home. This monster didn't even have a name, but the description of it was so intense (glowing red eyes, yellow fangs and leathery wings) that I never forgot it and I've remembered it every time I go near any mountain.
An Emby Bestiary is looking for stories like that: yarns about monsters that will make a big impression on young imaginations. They can be good monsters that help upon a tale of discovery or evil monsters that lurk in a cautionary tale.
The two requirements are that the creatures be original and that the tale be suitable for children (think middle-grade fiction up to pg-13) Take us back to the campfires of our youth as you spin a tale that you can tell your own kids.
Then, when I announce the stories that are chosen to be in the book, I'll also announce the monster from one story to be on the cover of the book! That monster will be professionally rendered by a graphic artist and brought to life for all to see!
Edited by: Miles Boothe
Submission Period: 2/1/15 through 7/1/15
Reading Period: 7/2/15 through 9/2/15
Acceptances will be announced 9/2/15
Tentative Publication Date: Holidays 2015
Payment: $25.00 and electronic copy of the book upon publication.
Word Limits: 2000 to 8000 words. Please query if longer.
Format: Submissions should be .doc (.docx is fine) or .rtf formats. The entire text will be reformatted, so no need to worry about margins, spacing, etc. Please use a standard font.
Genres Accepted: Dark Fiction, Horror, sci-fi.
Reprints Accepted: No
Simultaneous Subs: (submitting to Emby and another press at the same time) can be avoided by requesting an early response.
Multiple Subs: Each author may submit up to 2 stories. Only one story per author will be accepted.
Exclusive Rights: The contract will stipulate 1 year exclusive worldwide print and electronic rights. However, the contract does also state that under certain circumstances, Emby Press will consider granting permission to the author to place the story with additional publications.
Via: Emby Press.
About the Author
Latest Posts
Stuart Conover is a father, husband, published author, blogger, geek, entrepreneur, horror fanatic, and runs a few websites including Horror Tree!