Taking Submissions: Dread Space: Volume 2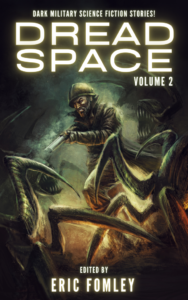 Deadline: March 31st, 2023
Payment: 2 cents per word
Theme: Science fiction, dark or horror, involving military or military-like characters
Submissions will be open 3/1/23-3/31/23
Stories must be flash fiction, less than 1,000 words in length.
Stories must be science fiction, must be dark or have an element of horror, and must be about or centered around military or paramilitary characters. Read the first volume in the series if you're not sure what we're looking for.
The anthology will appear in digital, print, and audio formats.
A simple contract will be sent outlining terms but we are requiring no exclusivity. Once your story is published, you are free to sell it elsewhere.
Compensation: .02 per word and a digital copy of the finished anthology.
Submit each story with the subject line "Dread Space Submission: [Story Title] by [Author Name]" to [email protected]. Send stories attached as a .doc, .docx, or .rtf. If submitting more than one story send each in a separate email. Please include a bio in third person of no more than 50 words.
Reprints are welcome and will be accepted at half the rate of original submissions.
Please state in your email if the submission is original or a reprint and where it was originally published.
Multiple submissions are welcome (up to three at any given time).
Simultaneous submissions are also welcome.
Via: Shacklebound Books.
About the Author
Latest Posts
Stuart Conover is a father, husband, published author, blogger, geek, entrepreneur, horror fanatic, and runs a few websites including Horror Tree!