Taking Submissions: Bikes in Space 6: Dragons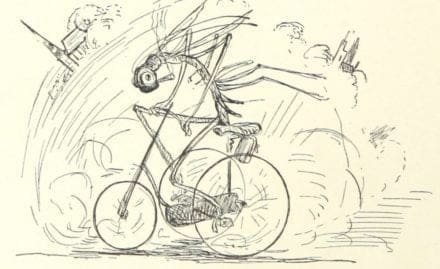 Deadline: April 1st, 2018
Payment: $30 minimum, details below
With volume 5 in edits, it's time to start planning the sixth volume of the Bikes in Space series of feminist bicycle science fiction, currently planned to come out in early 2020.
The theme for this issue is: Dragons.
Story length: 500 to 8,000 words (stories on the shorter end tend to appeal to me more).
Deadline: April 1, 2018 (Changed from February 1st to avoid editorial burnout!)
Format: Email a Word, Google, PDF, or txt/rtf document to elly at takingthelane dot com. I prefer to read submissions blindly, so please don't include your name or contact details on your manuscript. Submissions of black and white illustrations or comics are also welcome.
Pay: A percentage of net profits from the Kickstarter project used to fund the book is split evenly between contributors, not less than $30 per story.
More about the themes: Stories can be in any science fiction or fantasy – ish genre: high fantasy, hard SF, space opera, fairy tales, solarpunk, spec fic, slipstream… anything but fanfic. Dragons can be literal or metaphorical, from a specific cultural tradition or entirely of your own invention. Surprise me! All stories must contain bicycles—the story doesn't need to be about bicycling, but this element must be central enough that removing it would change the story significantly. Same goes with feminism. The story doesn't have to be about feminism, but it does need to break from tired old gender stereotypes.
I am especially looking for stories by writers who don't often see their experiences reflected in mainstream science fiction and fantasy.
P.S. Here's a photo of an actual dragon bicycle for your enjoyment.
Via: Taking The Lane.
About the Author
Latest Posts
Stuart Conover is a father, husband, published author, blogger, geek, entrepreneur, horror fanatic, and runs a few websites including Horror Tree!