Taking Submissions: Autumn Cthulhu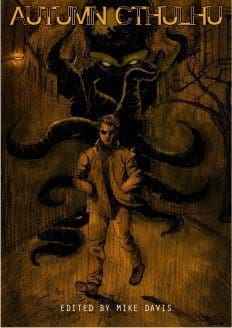 Deadline: October 31st, 2014
Payment: $150
Autumn Cthulhu is an upcoming book of original short stories by various authors.  It will be published byThe Lovecraft eZine.
I sent some private submission invitations out a while back, so I have some great stories lined up already.  Now, though, I'd like to temporarily open submissions to everyone.
Here's what I'm looking for:
Well, the wordsAutumn Cthulhu sum it up somewhat.  But, though pastiche can be done well, I don't want it here.  In other words, less "Mythos" and more "Lovecraftian".  I'm talking about the themes of Lovecraft: cosmic horror, deep time, man's irrelevant place in the universe, horrific truths about reality, etc…
So the story should be Lovecraftian, set in the fall.  You could include Halloween, and in fact I very much hope some of you do, but it's not a necessity.  There's a mood and a magic and a mystery to autumn; think colorful falling leaves, crisp days, rainy afternoons and evenings.  A cold drizzle.
Quiet horror.
I'm going to point out some stories that show the kind of mood I'm looking for.  (This is very important.)  But as I do, please bear in mind that I'm not asking you to write like that author.  And I'm not talking about the plots, either.  It's the mood.  Quiet horror, mixed with Lovecraftian themes and Autumn.
Here are those stories:
The Sea of Ash, by Scott Thomas.
The Nocturnes collection, by John Connolly.  Specifically the following stories: Mr. Pettinger's Daemon, The Erkling, The Shifting of the Sands, Deep Dark Green.
The Crevasse, by Nathan Ballingrud and Dale Bailey.  (Set in winter, but I love this "quiet horror" story.)
As I say, the plot is up to you.  But I hope this gives you some idea about the mood and the setting.
This will be the first print anthology of original stories published by Lovecraft eZine… so I have very high standards.  You need to really hit this out of the park; not just with the writing, but also with your story matching the theme of this book.
If you have questions, please email me at [email protected] (submissions go to [email protected]).
PAYMENT: I'm paying on a flat-fee basis.  If I accept your story, I will pay you $150.
PUBLISH DATE: My goal is to publish Autumn Cthulhu in late July to early August, 2015.
WORD COUNT: Between 3,000 and 6,000 words.
DEADLINE: October 31, 2014.
SEND SUBMISSIONS TO: [email protected]
NO REPRINTS.  Stories must be original, never published anywhere before.
Please, no simultaneous submissions.  Only one story at a time will be considered.  Submission does not guarantee acceptance.
This book will be published in print and for Kindle.
Via: Lovecraft Zine.
About the Author
Latest Posts
Stuart Conover is a father, husband, published author, blogger, geek, entrepreneur, horror fanatic, and runs a few websites including Horror Tree!