Taking Submissions: 21 Futures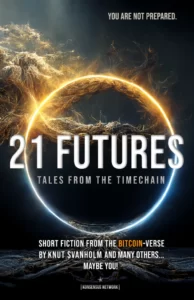 Deadline: February 28th, 2023
Payment: $100 and a contributors copy
Theme: Anything story 'from that future' that includes bitcoin
Konsensus Network is accepting story submissions for the world's first bitcoin short-fiction anthology, 21 Futures: Tales from the Timechain
The book will contain 21 short fiction stories from various authors, one of whom could be you! We want to present a broad spectrum of possible worlds all told through the lens of bitcoin. Stories must be fiction and must feature bitcoin in a meaningful way. The book will feature work from some of the most prominent voices in the bitcoin community in addition to emerging short-fiction authors.
Primarily, our editors are looking for gripping, human-interest stories with emotional impact. They want strong characters, high stakes, and moments of epiphany and change. The idea is not to predict the future of bitcoin, but to expose the situations it may uncover. We are keen to publish a variety of visions, not just sci-fi dystopias and stories of crime and fraud.
Send your story
Writers should submit stories between 1,500-3,000 words before the deadline of 28th February 2023. If selected as one of the 21 stories to feature, authors will receive $100 in exchange for Global, unlimited publishing rights.* Yes, you can get paid in sats. You will also naturally get a copy of the book, fresh off the press.

Please send submissions in English as a document (odt or doc preferred) to [email protected] along with a 50-word author biography. We only accept one submission per author, so please send us the best one!
The small print
We don't want to limit your creativity, but there are some important guidelines that all submissions must follow. Submissions should not feature any other kinds of "blockchain technology", "Web3" platforms, "cryptocurrencies" or "NFTs". The accuracy of bitcoin terminology, ethos and technology in the stories is integral to the success of this book.
*Authors will retain copyright to their works and are allowed, and encouraged to publish their story on their own under CC BY-SA 4.0 license after 90 days of first publication by Konsensus Network. We would appreciate a mention "Originally published in 21 Futures: Tales from the Timechain by Konsensus Network".
Via: Konsensus.
About the Author
Latest Posts
Stuart Conover is a father, husband, published author, blogger, geek, entrepreneur, horror fanatic, and runs a few websites including Horror Tree!