Little Boy Lost: More Tales of Youth Disrupted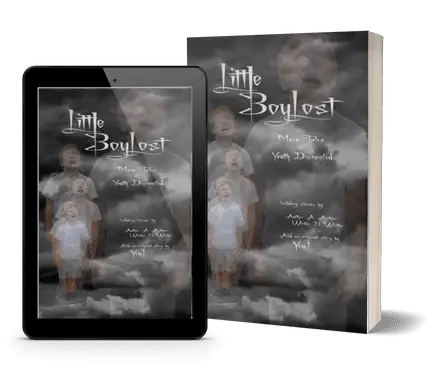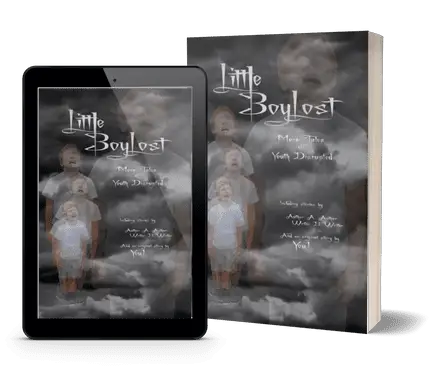 Deadline: February 29th, 2020
Payment: Contributor's copy and potential payout depending on crowdfunding.
Theme: The anthology will include all original stories centering around the idea of boys' lives being disrupted in some way.
Anthologists:
Ronald Linson and Deidre J Owen
Genres:
Varied; previous volume ("Little Girl Lost") included Horror, Sci-Fi, Fantasy, Crime Drama. See below.
Submissions:
Dec 1, 2019 – Feb 29, 2020
(or until anthology is filled)
Compensation:
Contributor copy (print & ebook); cents/word dependent on crowdfunding. See below.
LITTLE BOY LOST: MORE TALES OF YOUTH DISRUPTED will be a companion volume to our newly released anthology Little Girl Lost: Thirteen Tales of Youth Disrupted (released Oct 15, 2019). The anthology will include all original stories centering around the idea of boys' lives being disrupted in some way. It could be through vanishing mysteriously, experiencing a life-altering event, or…? We are seeking well-written, imaginative tales that explore this idea to its fullest. Use your own interpretation as to the meaning of 'lost.' Surprise us!
Submissions period opens DECEMBER 1, 2019 and will remain open until February 29, 2020 at 11:59PM (EST) or until the anthology is filled. Submissions received outside of this period will not be considered.
We are seeking original, previously unpublished stories of the highest quality between 2,000 (hard minimum) and 7,500 words. We are willing to look at stories up to 10,000 words, although they are less likely to be accepted.
Genre: Your story can be in nearly ANY genre so long as it fits the theme of the anthology, with the firm exception of erotica/adult content.
Subjects we WILL NOT accept include (but are not limited to):
Erotica or adult content
Pedophilia
Depictions of rape
Graphic depictions of child abuse
Sexual activity involving persons under the age of eighteen (18)
Gratuitous or excessive violence or gore
Racism, bigotry, or slander towards anyone
Fan Fiction
(If you are unsure whether your story crosses any lines, please feel free to submit it anyway. Decisions will be made on a case-by-case basis.)
Submitting:
Please send your submission to 

[email protected]

 as an attachment. The subject line must read: LBL ["Title of Story"], [Your Name]
In the body of the email, please provide a brief cover letter including your name, pen name (if you use one), the title of your story, the word count, and a short bio (third person preferred).
Manuscripts should be sent as an email attachment. Please submit your work in .DOC, .DOCX, or .RTF format, 12 point font in Times New Roman or Arial, and double spaced. Please put your name, contact information, and the word count at the top of the first page. Please do not insert headers/page numbers into the body of your story. DO NOT paste your story into the body of the email; this will result in an immediate rejection.
Stories should be carefully edited and polished. Excessive typos and grammatical errors will be noted.
No multiple or simultaneous submissions. However, once you have received a response you are welcome to submit another story.
Submissions must be in English.
No reprints.
Publication: Print on Demand and Kindle ebooks will be published through KDP (Amazon), and further ebook formats will be published through Smashwords . Kindle Select will not be enabled to allow for multi-platform publication. Our goal for publication is May 2020.
Response time: We will respond to all submissions within three to four weeks of receipt. If you do not receive a response after six weeks, please send your inquiry to [email protected] with "QUERY" and your story title in the subject line.
(If you do not receive acknowledgement of your submission within 48 hours, please check your junk mail folder. If you still have not received confirmation of receipt, please double check your subject line and your attachment. If you have any concerns, feel free to reach out to us via email or our Contact page.)
Compensation: Authors will receive free contributor copies (one standard edition print copy and digital ebooks in .MOBI, .EPUB, and .PDF formats) and a payment as yet to be determined. Monetary compensation will be dependent upon the outcome of the crowdfunding campaign associated with the project. Our tentative crowdfunding goal is to be able to pay our authors $0.02/word (two cents per word, USD). If we exceed our crowdfunding goals, this rate will increase accordingly. Payment will be issued upon publication.
Our tentative goal for the crowdfunding campaign is currently $1,500 (USD). Mannison Press will allocate 80% of the crowdfunding proceeds for author compensation; the remaining 20% will go toward production costs and perk fulfillment. The campaign is slated to begin February 1, 2020 and will run for six (6) weeks.
Rights and exclusivity: Authors must hold all rights to their work at the time of submission. Mannison Press will ask for worldwide first print and first digital rights, exclusive for six months; rights shall be reverted back to the author six months after initial publication. Mannison Press then retains continuing rights to print the anthology, but authors are welcome to publish their story in other markets moving forward (with the understanding that the anthology may still be in print with Mannison Press). Authors maintain copyright to their work.
If you have any questions, please feel free to contact us at [email protected].
Via: Mannison Press.
About the Author
Latest Posts
Stuart Conover is a father, husband, published author, blogger, geek, entrepreneur, horror fanatic, and runs a few websites including Horror Tree!