Disclosure:
Our reviews may contain affiliate links. If you purchase something through the links in this article we may receive a small commission or referral fee. This happens without any additional cost to you.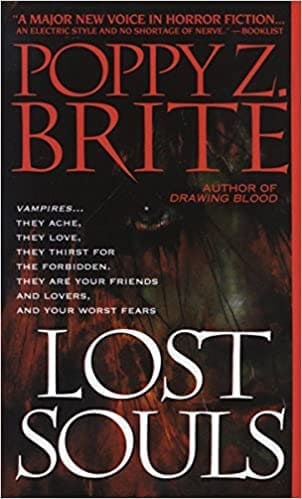 Title: Lost Souls
Author: Poppy Z. Brite
Genre: Horror
Publisher: Dell
Release Date: 1992
Synopsis: At a club in Missing Mile, N.C., the children of the night gather, dressed in black, look for acceptance. Among them are Ghost, who sees what others do not; Ann, longing for love; and Jason, whose real name is Nothing, newly awakened to an ancient, deathless truth about his father, and himself.
Others are coming to Missing Mile tonight. Three beautiful, hip vagabonds—Molochai, Twig, and the seductive Zillah, whose eyes are as green as limes—are on their own lost journey, slaking their ancient thirst for blood, looking for supple young flesh.
They find it in Nothing and Ann, leading them on a mad, illicit road trip south to New Orleans. Over miles of dark highway, Ghost pursues, his powers guiding him on a journey to reach his destiny, to save Ann from her new companions, to save Nothing from himself. . . . 
The runaway success of a debut novel always interests writers who are looking to make a similar breakthrough in their own careers. In the case of Lost Souls by Poppy Z Brite, it became a cult classic and launched a career that, so far, comprises eight novels and four short-story collections. 
 The main character, Nothing, is fifteen. He's bored with his hometown, frustrated with his adopted parents (who seem uniquely unable to understand him) and is eager to skip town to find his real parents. Courtesy of a note pinned to his basket the night he was left on their doorstep, he at least knows his real name. He begins with a cross-country Greyhound bus trip to Missing Mile, North Carolina, the home of his favourite indie rock band Lost Souls?, which is fronted by Steve Finn and Ghost. On the way, he is picked up by a group of three vampires travelling in an anonymous black van, including (unknown to him) his natural father Zillah. 
 The need to feed emerged within Nothing as he grew up, and he takes easily to life on the road, snatching the vulnerable and draining their blood. Zillah is the group's leader, violent and dangerous. Nothing is determined to find out more about his birth mother, and the arrival of a fourth member of the group, Christian, makes this possible. Meanwhile, Zillah's sexual charisma seduces another young woman, Ann, and she falls pregnant with his child. Tough choices lie ahead, as carrying a half-vampire child is always fatal to the mother. 
 By 1992, the market was ready for a searingly honest portrait of a gritty, drug-addled vampire novel set against the popular fare of 'vampires as glamorous, sophisticated and elegant' we'd grown used to. It was the moment for grunge, so it probably wasn't an accident that this novel centres in part upon a rubbishy rock band fronted by two stoners adored by their local following. Re-reading this book after many decades for the purpose of this review, it struck me how much the book reflected its time, and I realised all over again that this potential was what Penguin must have seen when they picked it up. It stood the test of time every bit as well as the bands and culture it drew upon, and it took me back to my college years in the early Nineties, going to dive bars to see indie bands of precisely that ilk. 
 The locations are one of the best parts of this novel. New Orleans is Brite's stamping ground, and you can tell that the author is entirely at home there. No part of the Latin Quarter is left out. Likewise, the small North Carolina town of Missing Mile, which is incidentally the location for Brite's second novel, a haunted house tale, is central to the action. She captures the 'nothing ever happens' nature of small-town America perfectly, and it offers the right contrast to the seedy violence of New Orleans. 
 Technically speaking, it was interesting to see the omniscient point of view utilised in the overarching introduction. Brite established a feel of group identity, essential in the environments presented here where there is so much pressure to fit in that everyone ends up thinking alike and no one wants to stand out from the crowd. Courtesy of Ghost's ability to read other people's thoughts and enter into their feelings directly, there were frequent journeys from one character's point of view to another within a scene. At other times, the point of view spontaneously shifted mid-scene from one character to another to reflect the group identity that kept the protagonists pushing forward through their bloodthirsty nocturnal activities, murdering youngsters to drink their blood, without anyone turning a hair. 
 This is an unforgivingly bleak and grimy portrait of the underworld in which vampirism can flourish: runaway children vulnerable and exposed, young people experimenting with sex, drugs and alcohol, and of course the indie rock scene and small bars that play host to their performances. There are flashes of optimism, not least of all in Ghost, whose humanity is grounded in his magical ability to see into other people's feelings and thoughts. However, precious few happy endings occur in such an unremitting environment, and this novel reflects that truth perfectly. I loved every moment of it. 
 Review the reviewers! If you've read this novel, or just have some thoughts on any point made in this review, tag me at @JohnCAdamsSF on Twitter to share them. 
 Enjoy! 

out of 5 ravens.