Disclosure:
Our reviews may contain affiliate links. If you purchase something through the links in this article we may receive a small commission or referral fee. This happens without any additional cost to you.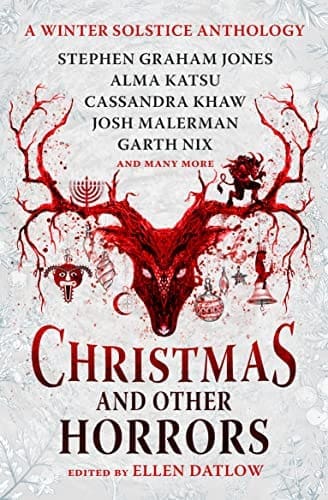 Title: Christmas and Other Horrors: An Anthology of Solstice Horror
Editor: Ellen Datlow
Genre: Horror/Thriller
Publisher: Titan Books
Release date: October 24, 2023
Synopsis: Hugo Award winning editor, and horror legend, Ellen Datlow presents a terrifying and chilling horror anthology of original short stories exploring the endless terrors of winter solstice traditions across the globe, featuring chillers by Tananarive Due, Stephen Graham Jones, Alma Katsu and many more.
The winter solstice is celebrated as a time of joy around the world—yet the long nights also conjure a darker tradition of ghouls, hauntings, and visitations. This anthology of all-new stories invites you to huddle around the fire and revel in the unholy, the dangerous, the horrific aspects of a
time when families and friends come
together—for better and for worse.
From the eerie Austrian Schnabelperchten to the skeletal Welsh Mari Lwyd, by way of ravenous golems, uncanny neighbors, and unwelcome visitors, Christmas and Other Horrors captures the heart and horror of the festive season.
Because the weather outside is frightful, but the fire inside is hungry…
Featuring stories from: 
Nadia Bulkin
Terry Dowling
Tananarive Due
Jeffrey Ford
Christopher Golden
Stephen Graham Jones
Glen Hirshberg
Richard Kadrey
Alma Katsu
Cassandra Khaw
John Langan
Josh Malerman
Nick Mamatas
Garth Nix
Benjamin Percy
M. Rickert
Kaaron Warren