Disclosure:
Our reviews may contain affiliate links. If you purchase something through the links in this article we may receive a small commission or referral fee. This happens without any additional cost to you.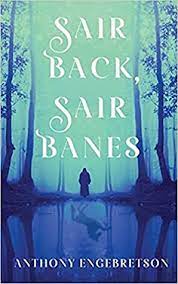 Title: Sair Back, Sair Bones
Author: Anthony Engebretson
Publisher: Ghost Orchid Press
Genre: Occult/Fantasy
Release Date: 11th May, 2022
Synopsis: A dark shape now stood in those choppy dark waters. A horse. A black one, large as she'd ever seen, with a mane that poured down its neck.
Genevieve hoped a trip to the Scottish village of Fonniskie would help her reconnect. But her vacation turns out to be less than relaxing: the nearby loch holds a dark secret, and Genevieve finds herself haunted by a relentless pursuer whose obsession means he will do anything to possess her—even kill.
Blending ancient folklore with modern alienation, Anthony Engebretson's eerie debut novella will make you question what it really means to be human.