Taking Submissions: When Robots Dream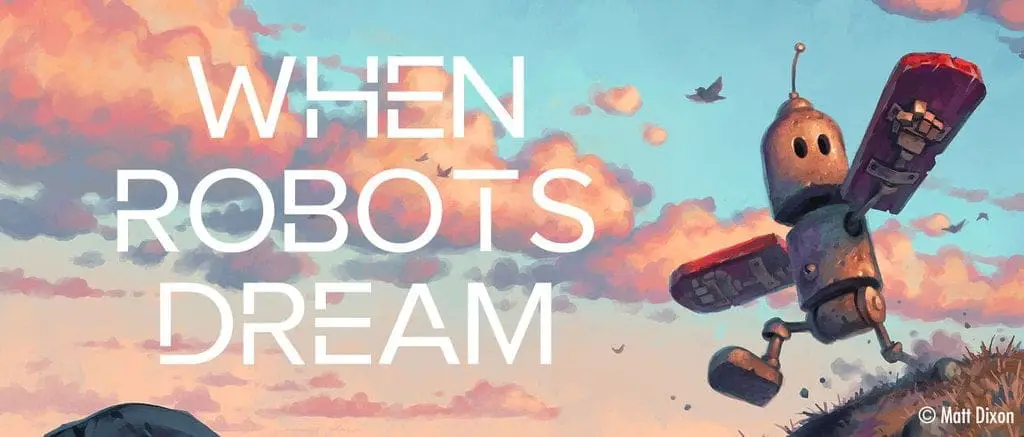 Deadline: August 14th, 2020
Payment: contributor's copy
Theme: "The ultimate collection of robotic art and stories"
When I was young, I spent a summer reading I, Robot by Issac Asimov, and Do Androids Dream of Electric Sheep by Philip K. Dick. Those two books formed the foundation of my fascination with the Science Fiction genre, and with those wonderfully diverse creatures, we call robots. Through the years, I've enjoyed the myriad of depictions of robots in books, art, and entertainment. So, when the ArtOrder team sat down to discuss our next themed book – it was no surprise that I pushed heavily for a robot theme.
I want When Robots Dream to be the ultimate collection of robotic art and stories. I'm looking for images and stories that get out of the typical clichés and offer the fans something unique and exciting. 
Jon Schindehette
ArtOrder llc Founding Member
The Jury
When Robots Dream will be a book filled with amazing stories and art! To help us deliver on that promise, we have pulled together a stellar panel of jurors.
Jean-Pierre Jeunet
Jean-Pierre is an award-winning French film director, producer, and screenwriter. His films mix elements of fantasy, realism, and science fiction to create idealized realities or to give relevance to mundane situations. A former animator, his movies are marked by quirky, slapstick humor, alongside surrealist visuals.
Jean-Pierre's work in notable films such as Amélie and City of Lost Children certainly endeared him to us, but his love of robots and sci-fi won us over.
Neil Clarke
Neil is the editor of the Hugo and World Fantasy Award-winning Clarkesworld Magazine and several anthologies, including the Best Science Fiction of the Year series. He has been a finalist for the Hugo Award for Best Editor (Short Form) eight times, won the Chesley Award for Best Art Director three times, and received the Solstice Award from SFWA in 2019.
We didn't think you could find much more street cred for robots and science-fiction that from the man behind Clarkesworld Magazine.
Matt Dixon
Matt is a freelance illustrator and concept artist and creator of the Transmission series of robot artwork
He is a busy freelance illustrator working in the games industry. When he's not painting angry goblins or weird alien slugs, you might think that he'd like to get away from the computer…but no. When it's time to relax, nothing soothes his mind and calms his nerves like retreating into the world of my robots.
Whether he is relaxing, or not, his lonely robots tug at our hearts and make our imaginations soar!
Brian Despain
Brian has worked as a professional illustrator, both as an in house artist and as a freelancer for nearly four decades. His many storied career has spanned video games, fine arts, role-playing and collectible card games, galleries and magazines as well as near endless appearances on Pinterest. His clients have ranged from local to international fame and though his current position, dad of three little girls, takes a lion's share of his time he still tries to get into the studio once in a while.
We felt that anyone that spends his childhood doodling a veritable army of dinosaurs, space ships, demons, and imps – deserved a place on the Jury.
Jon Foster
Illustrator, Sculptor, Teacher, Concept Designer, Painter.
Jons' works have appeared in publications such as National Geographic, Universal Orlando, Dark Horse Comics, DC Comics, Tor Books, Simon and Schuster, Harry S. Abrams Books, Boston Globe, Underwood Books, Knopf, Delacorte, Del Rey Books, Scholastic, Fox Atomic, Little Brown, Nightshade Books, Subterranean Press, HBO, MTV, Sonoma State Park CA.
A little known secret…Jon Schindehette, our fearless founder, gave Jon his first book cover commission! And we've always loved his illustration of a forlorn robot as a raven taunts it
What To Submit
Illustration, Drawings, Sculpture, Mixed Media, Digital, etc. – if it can be captured and displayed on a 2d surface. You are welcome to bring it in front of the Jury for consideration. 
Flash Prose, Poetry, Short Fiction, etc. – If you can keep it under 10,000 words, we want to read it!
Whatever the medium, make sure you own it. Don't be derivative. Don't emulate. Bring your voice forward and make it resound!

NOTE: If you do not own the copyright for the material – DO NOT submit it unless you can produce a written agreement from the copyright owner giving us permissions to use the image in our products and promotions.
About the Book
The When Robots Dream book will be a full-color, 9 x 12 inch book. The final page count will depend on the number of images and stories accepted, but we are estimating 200-250 pages. 
Submission Fees
ArtOrder LLC believes that the money should flow towards the creative and that even the most modest of submission fees can be a financial hardship for some creatives. For that reason, we will not charge any submission fees. For creatives that have the means, we ask you to consider a small donation to the Honorarium Fund that gifts our Jury for their time and energy given in the cause of furthering the arts.
Copyrights and Ownership
ArtOrder LLC believes and celebrates creatives. To that, we do not require forfeiture of any rights to your works. You retain all copyrights and ownership of your works. If selected, you will be required to complete a licensing agreement with ArtOrder that grants us the right to publish your work(s) in the publication and use them in the book's promotion.
NOTE: If you do not own the copyright for the material – DO NOT submit it unless you can produce a written agreement from the copyright owner giving us permissions to use the image in our products and promotions.
If Selected For Publication
All creatives that are selected for publication will receive the following:
Licensing agreement to grant ArtOrder LLC the rights to publish your work(s)

A free copy of the book after publication

Opportunity to purchase additional books at the wholesale rate

Participation in the ArtOrder profit-sharing program which offers creatives a portion of the profits to compensate for the right to publish their work(s)
How to Submit
There are two submission processes:
The process for both is pretty straightforward.
Create an account

 (where applicable)

Complete your information

Upload your submission

You can submit up to 5 works
Deadline
The deadline to complete your submission is August 14, 2020, at 11:59 PM (Pacific).
NOTE: There will be no submissions accepted after the deadline for any reason. DO NOT wait until the last minute to submit!!
Kickstarter and Publication
ArtOrder bootstraps all of its publications through the Kickstarter process. Our current plans are to launch the Kickstarter in October 2020. The book is currently planned for a February 2021 release.
All dates are subject to change.
For More Information
If you have any questions, feel free to reach out the ArtOrder team at e [email protected]
Via: The Art Order.
About the Author
Latest Posts
Stuart Conover is a father, husband, published author, blogger, geek, entrepreneur, horror fanatic, and runs a few websites including Horror Tree!