Taking Submissions: What Dwells Below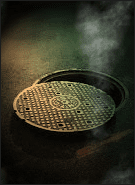 Deadline: January 1st, 2016
Payment: $25 usd
For this anthology, we're going urban! We'd like you to spin us a tale of horror describing what lurks below in the city sewers. All sorts of creatures, both real and imagined, may wish to do those who live in the sunlight harm; covet their ability to exist in the brightness above; or perhaps they simply fight for domain of their own patch in the darkness!

Whatever fantastically dark tale you come up with, please do not include zombies, homeless humans, or orphaned children. We want tales of true horror – not the horror of the human condition.

So tell us, the next time we walk over a grate in a city sidewalk, or pass a manhole cover slightly ajar, what should we be terrified is watching us from below?

Deadline: January 1, 2016

Word Count: 4,000 – 8,000 words

All submissions MUST be submitted to: [email protected]

Reading & Evaluation Period: Two to three months after close of the deadline

NO REPRINTS WILL BE CONSIDERED

Payment: Each story selected for inclusion will receive a one-time payment of $25US

As per our standard guidelines, there will be no stories containing pedophilia, or graphic rape accepted.
---
Anthology Submission guidelines:

Submission Deadline – January 1, 2016

Word Count: 4,000 – 8,000 words.

Payment: $25US per story selected for inclusion.

Copyright: First time worldwide copyright for a period of one year after publication.

Reprints will NOT be considered.

Graphic gore must be kept to a minimum unless it is integral to the story; absolutely no pedophilia, overtly descriptive and graphic rape scenes will be considered.

Only stories previously unpublished may be submitted. Upon acceptance into the anthology, you agree that Sirens Call Publications holds exclusive publishing rights for twelve (12) months from the date of publication; after that date has passed, all intellectual property rights revert to the author with the proviso that Sirens Call Publications retains distribution rights in the format of the contracted anthology.

Formatting – all submissions should be sent as .doc or .docx files formatted as follows: Times New Roman, 12 pt. font, single line spacing, first line indent. Italicize what you would like italicized, bold what you would like bolded. We will not interpret formatting as anything other than it appears in the submitted document. Dialogue requires quotes ( " ), inner thought should be italicized, and spoken or remembered quotes should be encapsulated in single ticks ( ' ). Headers and Footers are not necessary, please do not include them. If there is any question about formatting, please contact our editor through the submission email address. [email protected]

One print copy will be sent to each contributing authors; an unlimited number of discounted copies will be available to each contributing author for the lifetime of the book. Details are outlined in the contract.

Email your submission as an attachment to: [email protected]

Submissions are to be directed to our submissions email address only. The subject line should contain: "SUBMISSION – (anthology title)' – (your story title)" or your submission will not be considered for this anthology.
Via: Sirens Call Publications.
About the Author
Latest Posts
Stuart Conover is a father, husband, published author, blogger, geek, entrepreneur, horror fanatic, and runs a few websites including Horror Tree!