Taking Submissions: True Reflections: Anthology Of Stories By Trans Youths
May 24, 2022 @ 8:00 am

-

5:00 pm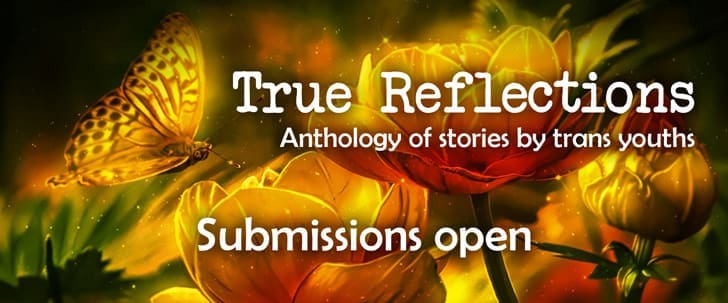 Deadline: July 31st, 2022
Payment: $0.03 CAD per word, higher if crowdfunding is more successful.
Theme: You – we are looking for your stories. Whether that's a deeply personal memoir, a fantastic tale close to your heart, or just something as ridiculous and silly as you are, we want to hear, share, and celebrate you, however you define it. Poetry will also be considered. Reprints are allowed if they have only been published in non-paying markets (e.g. personal blog, school newspaper, Wattpad, etc.).
Note: Stories by trans youth
It is rather inadequate to say times are tough for trans people right now. We want to show our support and spread awareness and understanding of transgender folks by assembling an anthology of stories by trans youths and recently transitioned people.

The theme for this anthology is you – we are looking for your stories. Whether that's a deeply personal memoir, a fantastic tale close to your heart, or just something as ridiculous and silly as you are, we want to hear, share, and celebrate you, however you define it. Poetry will also be considered. Reprints are allowed if they have only been published in non-paying markets (e.g. personal blog, school newspaper, Wattpad, etc.).
Brain Lag is a speculative fiction publisher, therefore priority will be given to new science fiction/fantasy short stories by trans youths (21 or younger). However, please don't self-reject! If you have an amazing literary, crime, or other genre piece you want to submit, we want to read it.
Length: Up to 6,000 words.
Restrictions: We are only looking for stories/poetry written by transgender youths (25 years old or younger) or recently transitioned/transitioning people of any age (2018 or later).
Genre: No fanfiction. Erotica and/or gore will be a hard sell, but otherwise anything goes.
Payment: A minimum of $0.03 CAD per word, to be paid upon successful completion of a crowdfunding campaign following the submission period.
Publication: Paperback and ebook, to be released in early 2023.
Deadline: July 31, 2022. Any subsequent edits on accepted submissions must be completed by December 31, 2022.
Rights: Exclusive worldwide print and digital rights for one year following date of publication; non-exclusive rights thereafter (reprints need not be removed from non-paying markets). Copyright always remains with the author.
To submit, fill out the submission form here.
Submissions are not automatically accepted; however, we believe in supporting transgender voices and will be working with authors to edit submissions we feel have the potential to reach the level of quality Brain Lag expects of its authors. We will do our best to accommodate as many print-quality submissions as we can, but we will be limiting the anthology to 100,000 words maximum.
Please note that even if you are a minor, we will be contracting directly with you and will not require parental/guardian involvement. While we will need your legal name for payment and contract purposes, for the anthology you may use a pen name or remain anonymous. All information provided to Brain Lag will remain strictly confidential unless approved for publication by the author in writing. You are welcome and encouraged to submit if you are in a volatile or unwelcoming home situation or are homeless.
PLEASE ADD [email protected] TO YOUR APPROVED SENDER LIST OR ANY RESPONSE YOU RECEIVE MAY BE SPAM-FILTERED. If you have any questions, don't hesitate to contact us first.
We look forward to reading your work.
Via: Brain Lag.
About the Author
Latest Posts
Stuart Conover is a father, husband, published author, blogger, geek, entrepreneur, horror fanatic, and runs a few websites including Horror Tree!