Taking Submissions: The Modern Monarchist: 80s in Blood!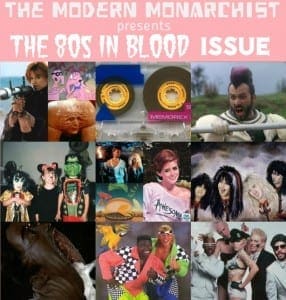 Deadline: July 30th, 2018.
Payment: $5 for stories up to 1000 words, and $10 for any story 1001-2000 words.
Note: Reprints allowed
The 80s represented a time of commercial indulgence and general cultural insanity. It is the decade in which weird and gross became mainstream. Excess was the hallmark of Hollywood. Blockbusters, shoot-em-ups, futuristic dystopian wastelands, mutants and beastmen and cyborgs, and everything was covered in slime from gumball machines. It was a great time to be alive. It was an even greater time to be a kid.
80s in Blood aims destroy conventional nostalgia and publish fiction that takes the 80s beyond the 80s. We seek the 80s version of the 80s: how characters in an exaggerated 80s movie might have envisioned an idealized 80s. If you have seen The Garbage Pail Kids Movie, Brain Damage, Steel Dawn, Hard Ticket to Hawaii, The Sword and the Sorcerer, Hell Comes to Frogtown, Terror Vision, Killer Klowns from Outer Space, Repo Man, Miami Connection, Howard the Duck, Big Trouble in Little China, and Mad Max Beyond Thunderdome and you thought, "These movies just weren't ridiculous enough for me," that's what 80s in Blood is looking for. Stories that examine the day-glo New Wave experience, or the Satanic Panic heyday of Heavy Metal, or the robotic grooves of Electro, or universes built around idolizing Madonna and Prince. The Cold War. WWF Wrestling. The Drug War. Monster Trucks. Break Dancing. Saturday Morning Cartoons. Lawn Darts. Jelly Bracelets. Mr. T. Cabbage Patch Kids. Video Arcades. Skate Boarding. Anything 80s is totally fair game for these absurd, weird, and gonzo spoof-homages.
DEADLINE: July 30, 2018.
SUBMISSION Guidelines: We are seeking only the finest FLASH FICTION, PROSE-POEMS, or ABSURD ARTICLES 2000 words or less. If we receive a submission that is over 2000 words, we will not only delete the submission unread, we will also delete the author from the spacetime continuum, forcing her or him to seek existence in an alternate Mandela. We are seeking absurd, surreal, gonzo, extreme, pop-pomo, weird, over-the-top, or bizarro takes on 80s pop-culture for this issue. Reprints are fine, just let us know where the piece has been previously published, and make sure you have the electronic rights before submitting.
Multiple Subs: You may submit multiple pieces at the same time—up to 2, provided each piece is less than 2001 words. It is not likely that more than one piece will be featured in this issue, however, we may do future 80s in Bloodinstallments.
Payment: You will be paid $5 for stories up to 1000 words, and $10 for any story 1001-2000 words. We ask for non-exclusive digital rights to your submissions, so you are free to publish them elsewhere as long as the other venues are cool-de-la. All payments will be made via PayPal, no exceptions.
Non-Fiction Articles: Please query if you have ideas for short non-fiction articles, interviews, or reviews that in some way relate to the 80s or 80s nostalgia.
Artwork: We are also interested in art, but please query before sending any work. We don't want much art and we can't pay you very much for it, so be forewarned. Obviously, some reference to the 1980s would be ideal.
Send all submissions to [email protected], with the header 80s SUBMISSION: Name of Your Work/Last Name. If you want to query, use the header QUERY. If you just wanna say "whaddup" use the header WHADDUP????? Please use five question marks. Please attach your submissions in .doc, .docx, or .rtf format. (This shouldn't need to be said, but include your name on at least the first page of the attachment, AND a byline that indicates what name you publish under in case this does not match the name that receives the money.) Include a short bio in the body of your email, so we get a sense of who you are and what you may (or may not) have published before.
LONG LIVE THE 80s!!!!!!
Via: Strange Edge Magazine.
About the Author
Latest Posts
Stuart Conover is a father, husband, published author, blogger, geek, entrepreneur, horror fanatic, and runs a few websites including Horror Tree!