Taking Submissions: The Cellar Door Issue #2 Forbidden Magic (Early Listing)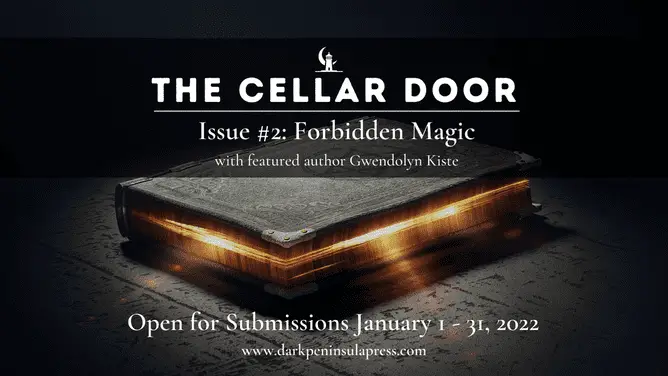 Submission Window: January 1st-31st, 2022
Payment: $25 and a contributor's copy
Theme: Forbidden Magic
Compiled & Edited by Aric Sundquist
Short Story Submission Call: January 1 – 31, 2022 (EST) CLOSED
The Cellar Door is a biannual digest of dark, speculative fiction. Each issue will contain 8 to 12 stories based around a specific theme and will include a brand new story from a featured author. The majority of the digest (80%) will be filled from the open submissions.
Title: The Cellar Door – Issue #2: Forbidden Magic
Theme: Horror stories featuring forbidden or taboo magic. Must include some form of spell casting, necromancy, or alchemy.
Type: Supernatural horror, voodoo, witchcraft, cosmic horror.
Word Count: 2,000 – 7,500 words.
Payment: $25.00 + digital/paperback copy.
Featured Author: Gwendolyn Kiste.
Accepted authors (so far): JC Martínez.
Rights: We are seeking first time rights for 1 year after publication. After that time all rights revert back to the author. The publication will appear in both print and digital formats and will eventually be reissued in The Cellar Door Compendium.
Reprints: None. Previously unpublished only.
Multiple Submissions: None.
Simultaneous Submissions: Yes, but state in your email that it is a simultaneous submission, and please email us immediately if the story is sold elsewhere.
File Format: Include your story as an attachment in MS Word, LibreOffice, or Rich Text Format.
Manuscript Format: Use the Modern Shunn Format. Include a short bio in the body of your email. Your subject line should read, FM Submission: ("Title") by (Author's Name). For Example, FM Submission: "Witch War" by Richard Matheson. Attach the story as a separate document.
Response Time: Two weeks after submissions close, if not sooner.
Submission Period: January 1 – 31, 2022 EST. Stories sent before or after will be deleted unread.
Note: Any stories submitted to our previous submission calls (Negative Space 1 & 2, Violent Vixens, Woodland Terrors) will have already been considered. Please try us with something new.
Send Submissions to: darkpenpress (at) gmail (dot) com
Influential Movies/TV:
 The Craft, Constantine, Pumpkinhead, The Evil Dead, The Skeleton Key, The Serpent and the Rainbow, Jennifer's Body, The Chilling Adventures of Sabrina (TV), Supernatural (TV), 
(more coming soon…)
Influential writings/series: 
Necroscope 
by Brian Lumley, 
(more coming soon…)
Via: Dark Peninsula Press.
About the Author
Latest Posts
Stuart Conover is a father, husband, published author, blogger, geek, entrepreneur, horror fanatic, and runs a few websites including Horror Tree!