Taking Submissions: The Bumper Book of British Bizarro!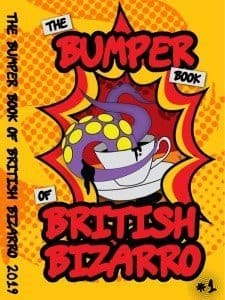 Deadline: May 15th, 2019
Payment: Contributor's Copy (Charity Anthology.)
Seeking short fiction, short non-fiction, poems, experimental works and anything Bizarro related for a charitable anthology.
We at the British Bizarro Community are seeking to celebrate the weird and wonderful Bizarro writers we have in the UK and to make the world a more caring and safer place.
The Charity we have chosen to support is the UK based Mermaids. Mermaids supports children and young people up to 20 years old who are transgender and/or gender diverse, and their families, and professionals involved in their care. If you wish to know more please visit their website at; https://www.mermaidsuk.org.uk/about-mermaids.html
GUIDELINES
All submissions must be sent to: [email protected]
Must be Bizarro related, weird, crazy, bonkers stuff. If you want a quick intro to the genre email us or contact us on face book, we have a group!
Submissions must come from the UK or from people born in the UK.
Short fiction/ non-fiction 1500-3000 words.
Poetry would preferably be short versed preferably under ten stanzas.
Anything else weird 3000 max word limit.
If you're unsure about anything please message us on our facebook page or at : [email protected]
SUBMISSIONS OPEN FROM MARCH 10TH UNTIL MAY 15TH!!!!
As this is a CHARITY anthology we will not be able to pay anyone but you will receive a contributors copy and 100% of the proceeds will go to the charity. So if you believe in the cause, Bizarro fiction and us as a group of utterly whacked out nutters please consider submitting.
Thank you for reading this far and we all look forward to reading your work!!
Via: The British Bizarro Community on Facebook.
About the Author
Latest Posts
Stuart Conover is a father, husband, published author, blogger, geek, entrepreneur, horror fanatic, and runs a few websites including Horror Tree!