Taking Submissions: Sciencefictionery #1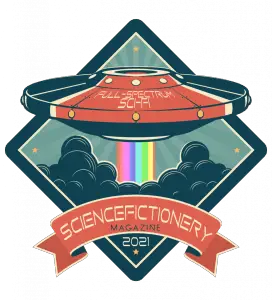 Deadline: May 7th, 2021
Payment: 3 pence per word for fiction and £30 per poem
Theme: A broad spectrum of stories from every Science Fiction subgenre
Issue #1 Submissions
As we ready our Kickstarter campaign, we are seeking stories to feature in the very first issue. There is a tight deadline for issue #1 submissions as we want to have stories and writers in place for when the Kickstarter goes live.
If you have a story ready or can get one ready or finished pretty swiftly, we have a deadline of 7th of May. Please ensure you read all the details on this page before submitting using the form below.
What we want:
We are looking for original works of fiction from 300 to 5000 words to feature in our magazine. We want to offer a broad spectrum of stories from every Science Fiction subgenre. So send us your robots and space cowboys. Send us your dystopian-alien-invasion-post-apocalyptic-cyberpunk tales. We like weird. We like adventure. We LOVE SCIFI!!
We are also looking for Science Fiction poetry of up to 40 lines and articles on or about Science Fiction of up to 2500 words.
Like all lit mags, we have high standards. In saying that, we know that writers often do not always appreciate their own work, so put your doubt aside and send us your most polished short story masterpiece.
If your work is accepted for publishing, we may request certain edits. The occasional typo is perfectly normal, but we don't want a story littered with them. If we require structural edits or a slight changes in the story itself, we will message you with our suggestions and leave the edits in your capable hands.
All payments will be based on the final word count after edits.
Payment rates and schedule
With a successful Kickstarter campaign, we will be able to offer 3 pence per word for fiction and £30 per poem. (Approx 4 cents per word / $40 US)
We have "Stretch" goals on our Kickstarter campaign, that, if met, will allow us to increase our pay rate to 6 pence per word for fiction and £60 per poem (Approx 8 cents per word / $80 US)- this will take us to pro-rate pay levels as set by SFWA.
If the Kickstarter campaign is unsuccessful, pay rates will be set at 2 pence per word for fiction and £20 per poem.
Pay schedule – Payment for stories accepted into issue #1 will be made within 30 days of the Kickstarter campaign ending.
Payment for all future issues will be made 14 days prior to the publication of issue in which they have been accepted into.
Multiple submissions accepted.
No simultaneous submissions.
The only reprints we publish are classic science fiction.
Rights
We reserve First worldwide print & electronic (text & audio) rights with an option for anthology rights for an annual "Best of Sci-Fi" anthology.
SUBMIT
Please use the form before to submit your work. After clicking submit, the form should thank you for your submission. If you receive any other message or are concerned your submission may not have been sent please email us at [email protected]
All submissions will be read and replied to within 4 weeks.
Via: Sciencefictionery.
About the Author
Latest Posts
Stuart Conover is a father, husband, published author, blogger, geek, entrepreneur, horror fanatic, and runs a few websites including Horror Tree!