Taking Submissions: Playlist of the Damned,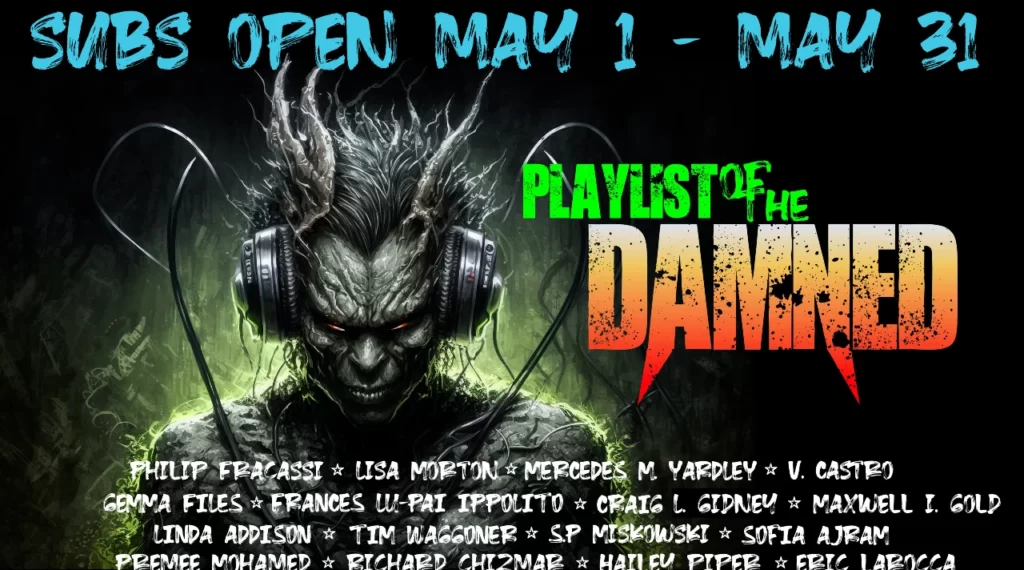 Submission Window: May 1st – 31st, 2023
Payment: Short Fiction: .05 per word (up to .08 if stretch goal is met) Poetry: $1 per line up to 50 lines (up to $2 if stretch goal is met)
Theme: Horror telling a tale of music
Submissions for Playlist of the Damned, the 2023 Kickstarter anthology from Weird Little Worlds Press will open on May 1st, 2023. This anthology is the third Kickstarter anthology from WLW Press, and features authors such as Gemma Files, Philip Fracassi, Lisa Morton, Eric LaRocca, Hailey Piper, Premee Mohamed, Craig L. Gidney, and more. The press will take 9 additional stories and poems from its open submissions period, with a potential to take more, depending on the Kickstarter's funding.
Weird Little Worlds Press has become one of the strongest publishers of short horror fiction, with Humans are the Problem: A Monster's Anthology (2021) and Mother: Tales of Love and Terror (2022) both being recognized on the Bram Stoker Award® Preliminary Ballots. Stories from the press's anthologies have also appeared on the yearly Pseudopod fiction highlight roundup as well as Ellen Datlow's Best Horror of the Year anthologies. The 2022 Mother is also on the final Stoker ballot for Excellence in an Anthology, and the co-editors of this year's Playlist, Jessica Landry and Willow Dawn Becker, are both Stoker-nominated editors (Landry, There Is No Death, There Are No Dead; Crystal Lake Publishing, 2021)(Becker, Mother: Tales of Love and Terror; WLW Press, 2022).
The Authors
Playlist of the Damned looks to meet the same level of excellence as the press's previous anthologies and includes brand new fiction from award-winning authors including:
Gemma Files
Philip Fracassi
Premee Mohamed
Castro
Richard Chizmar
Hailey Piper
Lisa Morton
Frances Lu-Pai Ippolito
Craig L. Gidney
Maxwell I. Gold
Mercedes M. Yardley
Sofia Ajram
Tim Waggoner
Linda Addison
P. Miskowski
Eric LaRocca
The Pitch
In December 2020, hiker Jeremy Schall finds a cassette tape in an abandoned mine reading DO NOT PLAY. When he mysteriously disappears, the tape is the only evidence of what happened. What is contained on this strange artifact is a collection of unfathomable evil, decadence, and horror featuring the 25 songs no human was ever supposed to hear.
Pay, Deadlines, Details
Deadline: May 1, 12am MST – May 31st, 12am MST
Prose Length: 500-5000
Prose Pay: Short Fiction: .05 per word (up to .08 if stretch goal is met)
Poetry Length: <50 lines
Poetry Pay: $1 per line up to 50 lines (up to $2 if stretch goal is met)
Rights: International audio and print rights for 12 months from publication date
Simultaneous/Multiple/Reprint: Simultaneous submissions okay/Authors can submit one poetry submission of up to three poems as well a single prose submissions/Reprint no
Anonymous Submissions: We have an anonymous submissions process where you will include your identifying information on the submissions form. You do not need to include it anywhere else on your document.
What We Want
Bring us your Faustian deals with the Devil, your debauched rock stars, and demonic incantations. Music that soothes the beast or strangles with an invisible hand. These stories should be so integrally connected with music that the narrative can't function without it.
Specific songs can be used, but (unless you have rights to the lyrics or it is in public domain) only references and titles can be included. There is no restriction on genre, style, or time period. We are interested in short fiction, horror poetry, and flash fiction alike in science fiction, fantasy, and horror. 
Please prepare an ANONYMIZED .doc or .docx file in Shunn Format and save it as such:
Title_Word Count_Type (SF, F, H – Scifi, Fantasy, or Horror)_Review 1
What We Don't Want
This is an adult horror anthology and although there may be adult situations, strong language, and violent imagery, we do not publish the following:
Excessive gore, graphic sex, child abuse, sexual assault, or gratuitous profanity.
Idealized human-to-human gun violence.
Submissions that include identifying information. We have an anonymous submissions process and you will have a chance to put your information in on the submissions form. DO NOT INCLUDE IT ON YOUR DOCUMENT OR DOCUMENT TITLE OR IT WILL BE REJECTED.
Unedited manuscripts. Please have someone read it before sending it in.
Tired cliches or obvious stories. Take your best idea and then twist it around.
Please take a look at our Statement of Purpose for more insight.
See the Submissions Guidelines and Submit here.
Via: Weird Little Worlds.
About the Author
Latest Posts
Stuart Conover is a father, husband, published author, blogger, geek, entrepreneur, horror fanatic, and runs a few websites including Horror Tree!