Taking Submissions: Kill Switch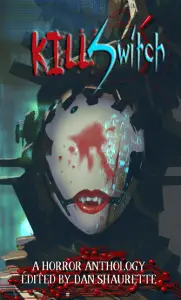 Deadline: October 31st, 2018
Payment: $10.00 USD
"The Future is Broken." – Black Mirror
What horrors will our technological hubris bring us in the future? When technology takes over more of our lives, what will it mean to be human, and will we fear what we have created? Artificial intelligence, robotics, bionics and cybernetics, clones, and virtual reality. These are a few of my favorite things. The technological singularity is fast approaching, and post-humanity is a frighteningly dark future.
First and foremost, your submission must be a horror story and contain something emotionally, physically, or mentally horrifying. Secondly, the technology should be front and center, not just a deus ex machina. Whether it be a modern technology we are creating now with a purpose yet fully realized, or some new horror as yet to be discovered. We are looking for stories in the same vein as NETFLIX's Black Mirror.
Post-apocalypse is welcome, as are dystopian societies, but technology must have brought them about. Supernatural elements are welcome in conjunction with the technology. What we don't want is aliens attacking humanity as the core conceit. What qualifies as "modern" technology is debatable; anything from the Cold War is the farthest back we'll consider.
Manuscript Format:
*Font: either Courier or Times New Roman.
*Double spaced, font 12 point.
*Your manuscript must be in either DOC or RTF format.
*Do not place your name in the manuscript, just the title.**
*Following pages header to state: author name, story name, and page number.
**This year, we are doing blind submissions. Wow us with your story.**
In the body of the email:
*With no header on the MS, the header info should be in the email as such: author name, mailing address, email address, and word count.
*100 words or less biography about you.
*One sentence explaining the story attached; your elevator pitch.
*Facebook, Twitter, Instagram links
*Your website or blog.
No previously printed work and no simultaneous submissions.
Subject of the email state:
*KILL SWITCH/Author Name/Story Title
*Send to: [email protected]
Deadline: October 31st, 2018, 11:59pm PST
Length: 2,000-7,000 words
Payment: $10.00 USD + digital contributor copy
Return time: Final decisions will not be made until AFTER the submission close date (10/31/18). You should expect a return within three months of the submission close date. If you do not receive an email stating your manuscript was received within two weeks of submission, please send a polite query to: [email protected].
For any other questions, please send an email to: [email protected]
Via: Horror Addicts.
About the Author
Latest Posts
Stuart Conover is a father, husband, published author, blogger, geek, entrepreneur, horror fanatic, and runs a few websites including Horror Tree!