Taking Submissions: Folkloric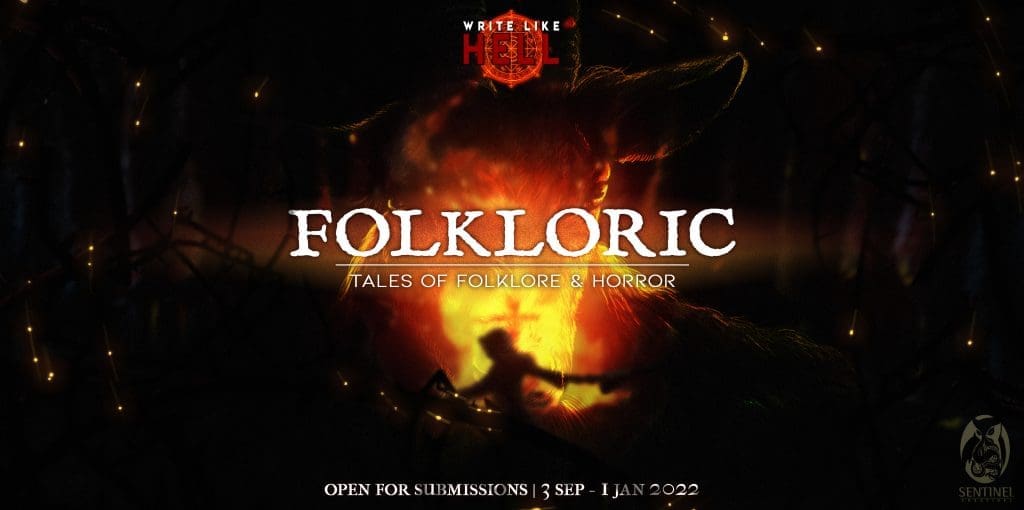 Deadline: January 1st, 2022
Payment: Accepted stories can expect between $100-$150.
Theme: Lovecraftian Inspired Tales of Folklore & Horror
Lovecraftian Inspired Tales of Folklore & Horror
Sentinel Creatives has opened up for submissions for the "FOLKLORIC: Tales of Folklore & Horror" anthology.
Deadline for Submissions: 1 Jan 2022
If you're unfamiliar with Sentinel Creatives, we're an indie publishing and production house based in Cape Town, South Africa. We maintain a weekly Substack profile, a monthly podcast show, as well as more traditional publishing roles! Though our focus is on books, we have moved into the audiobook and radio-play sphere, and our larger projects include various other creative endeavours (illustration, sculpting, painting, composing etc.)
Our most recent project—Lovecraft in a Time of Madness—was fully funded on Kickstarter within an hour and went on to raise over $20,000! The full project included a Cthulhu sculpt, various radio plays, a soundtrack, merchandise, fully illustrated pages of H. P. Lovecraft's work, as well as half-a-dozen other items we built into the project. We're hoping to repeat this approach with FOLKLORIC.
WHAT WE'RE LOOKING FOR
With Folkloric, we are hoping to create an original dark fantasy and horror collection of stories inspired by history, folklore, cults, religion, myth, and legend—with just a touch of Cosmic Horror. We want to read about traditional beasties that lurk within the dark places of the world and the slithering tentacles that follow them! While Lovecraftian themes are encouraged, we would prefer it if these submissions were more 'loosely inspired' by his works than if they took place within the Cthulhu Mythos, Dream Cycle etc.
Show us what the Inuits fear in the North—what horrific creature hunts them and the whales of the Arctic; take us into the black woods of Lithuania, to the Witch Mount and the horrors beneath its ruins!
We're looking for stories that blend traditional folklore with themes of cosmic horror. We are not looking for modern tales of horror. We'd prefer it if these submissions took place within an historical setting (preferably before the 20th century).
The more authentic the feel, the better!
SUBMISSION GUIDELINES
Send your submissions to: sent[email protected] with the subject "Folkloric Submission".
All manuscripts should be sent as a word document. Our preference is for Times New Roman or another clearly legible text.
Submissions should be between 5,000 and 9,000 words. This is not a hard limit, but preference will be given to those stories that meet this requirement.
Please include a short summary of the story in the body of the email, as well as a short bio and a list of any previously published works.
We're looking for original works that have not been previously published!
REMUNERATION:
All accepted stories will be paid for upfront!
As a small-time indie press, our budget is limited! Accepted stories can expect between $100-$150.
In exchange, we ask for exclusive rights to publish the story. Said rights will maintain for the duration of one year. After that, we retain the non-exclusive rights to the story, but you're welcome to submit and publish elsewhere after that!
It is likely that we will produce an audiobook version of FOLKLORIC: Tales of Folklore & Horror, and we ask for the same rights as the book and eBook rights.
Via: Sentinel Creatives' Mailchimp.
About the Author
Latest Posts
Stuart Conover is a father, husband, published author, blogger, geek, entrepreneur, horror fanatic, and runs a few websites including Horror Tree!