Taking Submissions: Fill The Void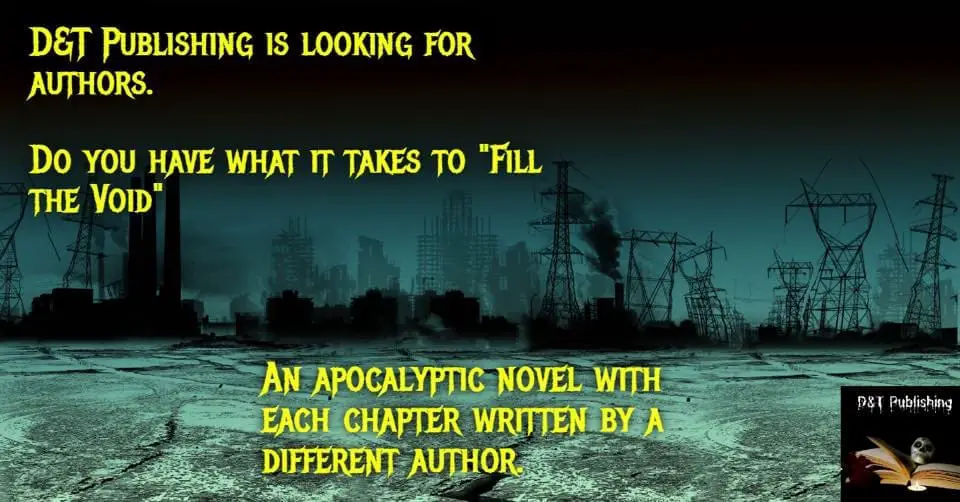 Deadline: May 29th, 2020
Payment: $25 and a contributors copy
Theme: An apocalyptic tale of epic proportions
Open submissions being accepted for "Fill The Void".
3/30/20- 5/29/20
D&T Publishing proudly presents Fill The Void. An apocalyptic tale of epic proportions.
A journey where the beginning is given to you and it is up to you to write the next chapter. One book, one group of authors, one magnificent and horrifying tale.
Specific information:
– To submit, write a one paragraph story about an apocalypse. I want to be intrigued and scared in the shortest words possible. If it is more than one paragraph, it will not be read. Send it in the body of an email to [email protected]
– A confirmation email will be sent to you within 24 hours of receipt.
– Acceptance emails will be sent out no later than 6/1/20.
– 10-15 authors will be chosen
– For your email, please use Fill The Void as the title.
– If you received an acceptance email, a link will be provided to you for a Facebook group and all other information will be provided to you at that time.
– This will pay $25 plus one paperback contributor copy.
We look forward to your submissions.
Via: D&T Publishing's Facebook.
About the Author
Latest Posts
Stuart Conover is a father, husband, published author, blogger, geek, entrepreneur, horror fanatic, and runs a few websites including Horror Tree!