Taking Submissions: Elegant Literature – Open Road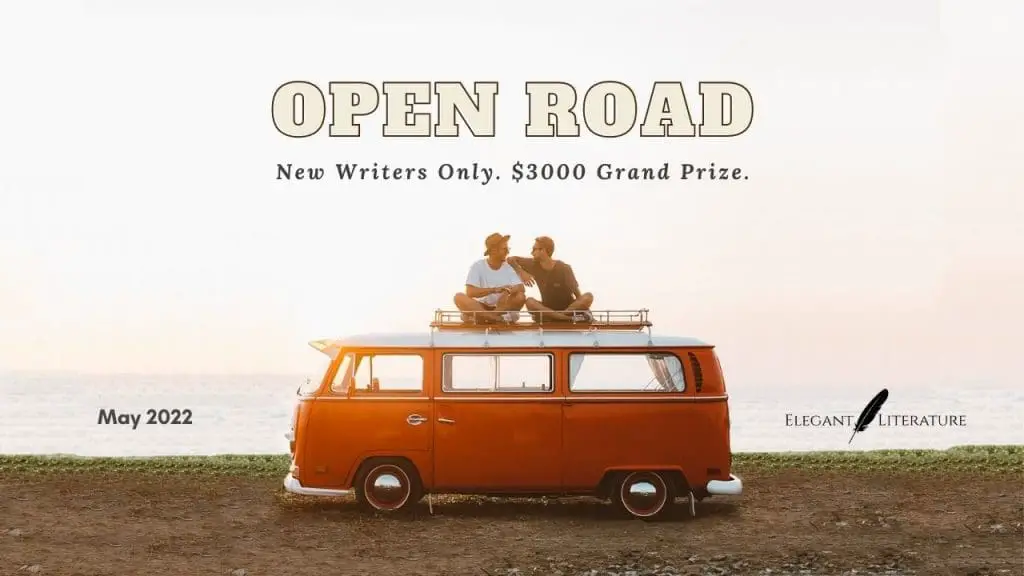 Deadline: May 31st, 2022
Payment: 8 cents per word (there is also a contest to win $3,000 though it has submission fees.)
Theme: Open Road
Write a story involving roads, and a glove.
Does the road call to you? To some, it offers freedom, adventure, and opportunity. To others, injury and death. Or, as you slow for the shadowed hitchhiker, you wonder if the risks aren't more sinister…
Roadtrips, van life, and fugitives on the run. From deserts to coastline to deep-shadowed forests, the open road has a place in our hearts. Whether it calls you to drift or confronts you with the long road home, it's undeniably a place of self-discovery. Of new faces and new attitudes. Just don't take a wrong turn, blow a tire, or stop in ghost towns. Beware the long grass and mutant bikers. Don't roll down the window for strangers, but do give them a lift. Travel by horse and buggy, sneaker and bag, or get behind the wheel, but hit the dusty trail and head into the unknown.
Our Mission:
Help new talent go pro, award life-changing prize money, and promote fiction writers worldwide.
Each month we hold a contest based on a short fiction prompt. You write a wonderful story and enter the contest. We choose the winner who receives the grand prize.
We also choose the best stories, pay the authors above-professional rates, and publish them in our magazine.
Anyone can submit work to the magazine for free, but you must be an Elegant+ Member to enter the contests and win prizes. Membership is $10/month and includes over $250 in exclusive discounts from our partners like Scrivener, ProWritingAid, Novel Factory, and more.
The odds depend on the number of members who enter the contest, and the strength of their work. Don't worry though, each month we increase the prize fund based on current membership, and will open more contest categories so the odds never get diluted.
Also, as our mission is to promote aspiring writers, we ask Pros not to enter.
Professional Pay
Professional pay for short fiction is 8 cents per word. We pay 10.
Private Submissions
Unlike some contests that publish all entries on their website, we keep them private, unless you choose to share them in the members-only area that functions as a critique group. If we don't purchase your work you are free to sell it elsewhere.
Write In Any Genre
We care about storycraft above all. The monthly prompt may affect what you write about, but feel free to genre bend. In fact, the best work often blurs the line.
Amazing Response Time
Unlike other magazines who take unreasonable amounts of time, you will always know if your submission was accepted by the end of the month.
Community Workshop
Members can get feedback from other writers and improve their work before submitting to the contest.
Streamlined Submissions
Gone are the days of query letters and risky contracts. We have simplified everything, making sure all terms are favorable for the author.
WHY PUBLISH WITH ELEGANT LITERATURE?
Have you ever waited months for a rejection letter, or published on profit-sharing sites and earned pennies? Let's not even discuss writing contests with two-thousand dollar prizes that charge 75 bucks to enter. You put up with a lot as a writer, wherever you choose to publish.  At Elegant Literature, we've combined the best bits and tossed the rest.
Your membership allows you unlimited entries into all our contests. Even if you don't win, we may still buy your work to publish in our magazine for rates that qualify you as a professional. You'll never have to wait more than a month after a competition closes to know whether we accepted you or not.
Submissions are kept private and aren't considered published, so even if we don't buy your story, you can still sell it to another magazine or post it on a profit-share site. You own all the rights.
Our prize-fund and ability to purchase fiction grows with our membership, so you always have a good chance at publication.
Finally, we can't stand the idea of "rights-grabbing" or shady contracts, and negotiating is a hassle for everyone. We believe in rewarding excellent work, not penny-pinching. Our streamlined submission process removes irritating aspects such as query letters and submission limits and heavily favors the author. Learn more about it here.
Via: Elegant Literature.
About the Author
Latest Posts
Stuart Conover is a father, husband, published author, blogger, geek, entrepreneur, horror fanatic, and runs a few websites including Horror Tree!