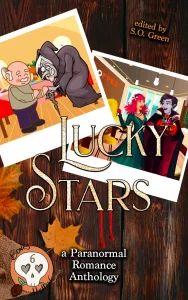 Deadline: October 1st, 2022
Payment: Royalties
Theme: Reasons to count your lucky stars!
Title: Lucky Stars
Opens: July 1st, 2022
Submission Deadline: October 1st, 2022, 11:59 EST or Until Full
Theme: Life can be full of ups and downs for the folks of Bones Hollow, but it's always good to give thanks. When the spells go just right, when the blood is hot, when the night is clear and the moon is full, there's a lot to be thankful for.
And when you're in love, even more so.
Thanksgiving is a time for reflecting on the things that make you grateful, whether it's a long-lasting relationship, an opportunity for new love, a harmonious house or the chaos of creation. Life, love and magic are all gifts. What do the denizens of Bones Hollow have to be thankful for this year?
A Bones Hollow anthology celebrates love for all kinds, shapes, sizes, and orientations based in the fictional Vermont town where the supernatural and Hallmark collide.