WiHM 12: Quick Six Questions With Rie Sheridan Rose

Welcome to The Horror Tree, and thank you for participating in Women In Horror Month. First, tell us a bit about yourself and your interest in horror.
I have been a horror fan all my life. I read every Stephen King book I could get growing up. Loved to watch Night Gallery, The Twilight Zone, The Outer Limits. Did a duet scene cut from Carrie in high school. It was just fun to be a little scared.
Why is Women In Horror Month important, and what do you say to someone who says 'Oh, I don't care if it's by a man, a woman, etc., as long as it's a good story'?"
Easy for people to say, but if you look at the shelves, it DOES make a difference if it was by a woman or a man. There still are disproportionate numbers of men there. Women in Horror Month is important because it helps to shine a spotlight on the fact that women can be just as scary, and there are a lot of writers you may not have heard out there creating some really spooky stuff. You never know who you might discover.

Who are some Women In Horror (or other women) who have influenced your work, and why?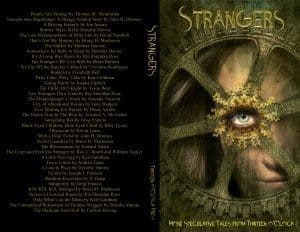 I have been honored to know Charlee Jacobs, who we lost recently. She was a huge influence on my work. Anne Rice, of course. Tanith Lee. All of the ladies over at the Ladies of Horror Flash Project. Each one has taught me something new about the art. Creating atmosphere for one major thing. Giving characters the edge that makes them scary.
2020 will probably be remembered as a TERRIBLE year for many of us; tell me something GOOD that happened in the past 12 months.
I got to spend most of it alone with my husband, and it was amazing. 🙂 And I learned to cook a lot more in the last few months.
What have you got planned for Women in Horror Month, and the coming months of 2021?
I hope to do some blog posts pointing up the Month, but I am in the middle of editing a horror novel for Mocha Memoirs Press, so I am not sure I'll get it done. I am sending out at least one submission a day, and quite a few have a horror bent. I hope to write a lot more this year than I have in the last couple.
Is there anything else you'd like to tell our readers? Thanks for participating in Women in Horror Month!
Bio:
Rie Sheridan Rose multitasks. A lot. Her short stories appear in numerous anthologies, including Killing It Softly Vol. 1 & 2, Hides the Dark Tower, Dark Divinations, and On Fire. She has authored twelve novels, six poetry chapbooks, and lyrics for dozens of songs. She tweets as @RieSheridanRose.
Social media links:
Twitter: https://twitter.com/RieSheridanRose
Facebook: https://www.facebook.com/pages/Rie-Sheridan-Rose/38814481714
Website: https://riewriter.com/
About the Author
Latest Posts
Selene MacLeod is a night operator and sometime writing hobbyist. She holds a BA in Communications from Wilfrid Laurier University and resides in Kitchener, Ontario. Her work has appeared in several horror and crime fiction anthologies, most recently Shotgun Honey, Drag Noir (Fox Spirit Books); and the upcoming Freakshow: Freakishly Fascinating Tales of Mystery and Suspense (Copper Pen Press), and Tragedy Queens (Clash Media).She's most excited about editing a charity anthology for Nocturnicorn Books called Anthem: A Tribute to Leonard Cohen, due out late 2017.