Tribute in Blood Blog Tour: Crafting a Historical Thriller Tribute in Blood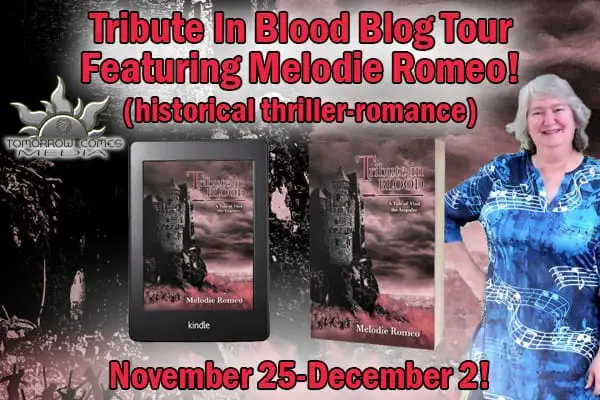 Crafting a Historical Thriller Tribute in Blood
Horror Tree asked me to submit an article targeting writers; terror sets in. Can I succeed in satisfying their insatiable hunger for novel ideas, their thirst for a gold nugget they may claim and remold as their own, or will I be dragged into the depths of a cobweb-infested chasm of doom by my inadequate words and phrases, never to surface again? Choosing the right topic and crafting witty quips and insightful nuances for regular people is one thing, but geared toward other authors—the horror! And so, I set out on my quest to inform and entertain the most discerning of audiences: you.
The genre I have chosen to focus on under the penname Melodie Romeo (my actual name) is the historical thriller. I've done a bit of supernatural and straight horror, but I prefer suspense to gore, an unexpected twist to a predictable slaughter. With my academic background, it feels more natural to place my tale somewhere in the past. I was always told, "Write what you know;" I know history, or at least how to research and excavate the information I require for a story. 
I have been writing stories, poems, songs, and novels since I was six years old, but never had anything published until 2002. It is a dicey and difficult business, fraught with pitfalls and dangers, risks and obstacles, and seemingly unsurmountable challenges—especially when raising two children on a teacher's salary. I had just completed an exciting historical fantasy manuscript, Viking Quest, with a female protagonist, mystery, high seas adventure, epic battles, and the inner struggles of the characters; no one wanted to publish it. Only a handful even bothered to send a rejection letter. I tried agents. They weren't interested in me or my book. It was a frustrating blow as this was my first novel that I deemed worthy to put into print. So, I consulted writer's resources, mostly in hard-copy because the internet was not as developed as it is today, and concluded that I may need to gear my next work toward what was selling at the time, to write for the market instead of myself if I ever wished to be published. Topping the best-seller lists were books like Hannibal, disturbing serial killers who would chill you to the bone with just one look.
I needed an idea for a thriller with a super-villain, one as shocking and intriguing as Hannibal Lector, but I wrote historical fiction (don't want to waste the money I spent on that MA), so who could I find? Research led me to several possibilities, but the malefactor who fit the bill was Vlad the Impaler. There was enough factual information about him to prove he was just as sadistic as any fictional human monster, and ample missing from the accounts to allow me leeway to craft a story about the protagonists who face and ultimately defeat him. 
Composing a historical thriller requires the investigative skills of a Ken Burns and the writing instincts of a Stephen King; throw in romance and you need the talent of a Nora Roberts to complete the triangle. Therefore, if I was to craft a piece worthy, I would have to be at the top of my game. 
This blending of genres adds a realism element to the horror novel that supernatural and fantasy tales can't produce. Sure, they can be vastly suspenseful and infinitely chilling, keep you on the edge of your seat, biting your nails, afraid to turn the next page, but at the end of the day you know it will never happen in real life. With a story based on terrors that actually occurred, you can't get off that easy. Hence, the historical thriller has the potential to be even more unsettling. 
How did I mix all the ingredients into Tribute in Blood, you may ask? I began with an examination of the primary subject, Prince Vlad III Dracula. The internet had a few little articles, but not the reliable sources I required, so I ordered scholarly books on his life and times, scoured libraries for period background information, dug up photographs and artists' renderings of the places I would be writing about. I longed to hop a plane and fly to Romania to experience the mystique of the Carpathian Mountains for myself, but that was not possible. I did my best to get inside Vlad's psyche—a very scary place to be indeed. I also studied other real-life personalities, such as King Mathias of Hungary, Stephen the Great of Moldavia, Prince Basarab of Walachia, and Sultan Mehmed II of the Ottoman Empire. 
But I was including fictional characters as well, so I set out to form them into believable individuals with backstories, motivations for their attitudes and actions and dropped them into the setting of Curtea de Arges, a small town near Poenari Castle. Chief among them are the two protagonists, Nicolae and Maria.
Next came hammering out the plot, fitting it into the accumulated accounts, and making room for romance to bloom amid a barrage of life and death situations. As is typical of me, the outline metamorphosed as the writing process proceeded and I reached for more intrigue and excitement. I deliberately determined to utilize cliffhangers at the end of chapters to create a sense of urgency and prompt the story to be a quick read. I hope I have succeeded.
The sub-genre of historical thriller is one that is wide open for authors to explore as it has not yet become saturated with an immense volume of novels. Some writers may prefer fantasy or straight fiction, fearing that the constraints of facts would bind their creativity; I find it to be the opposite. Coloring inside the lines of the chronicles is a discipline akin to composing music within the rules of classical style. It preserves focus and prevents me from straying too far from the core of the tale. Fully developed characters placed in moral dilemmas can be accomplished just as easily, and isn't that the true crux of storytelling? 
If you are considering delving into the inky waters of historical thriller writing, then I encourage you to take the plunge. A word of advice, though: dig deeper than Wikipedia for your biographies. Look at your subjects from all angles and present them as they were—real people who lived real lives, be they saint or sinner, or perhaps a bit of both.
Get ready for thrills and romance immersed in a historical setting as you explore Tribute in Blood, by Melodie Romeo, in a new blog tour taking place November 25 to December 2!
The return of Vlad the Impaler brings Nicolae and Maria together through mutual tragedies, and only they dare to try to stop his reign of terror! A thrilling read for the coming holiday season!
The Tribute in Blood Blog Tour features reviews, interviews, guest posts, top ten lists, and more!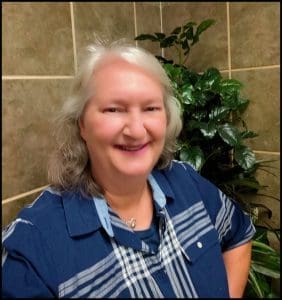 About the author:  Melodie Romeo, who also writes under the pen name Edale Lane, is the author of the award winning 2019 novel, Heart of Sherwood, and the Night Flyer Trilogy. As Melodie Romeo, she has written Vlad a Novel (soon to be re-released as Tribute in Blood), Terror in Time, and others. She founded Past and Prologue Press in 2019. Both identities are qualified to write historical fiction by virtue of an MA in History and 24 years spent as a teacher, along with skill and dedication in regard to research. She is a successful author who also currently drives a tractor-trailer across the United States. A native of Vicksburg, MS, Melodie is also a musician who loves animals, gardening, and nature.
Book Synopsis for Tribute in Blood:  Tribute in Blood, a Tale of Vlad the Impaler, by Melodie Romeo (previously released under the title, Vlad, a Novel)
The most terrifying horrors are revealed in the pages of history.
After killing over 100,000 people during his first reign as Prince of Walachia, Vlad has returned, ready to inflict tortuous death on anyone he chooses. Only Nicolae and Maria, drawn together through mutual tragedies both inflicted by the ruthless Prince Dracula, dare try to stop him. Can Nicolae fulfill his plan of justice and revenge while winning the heart of the lovely Maria, or will he become the Impaler's next victim?
With heart-stopping danger at every turn, detailed historical accuracy combined with fictional characters, and a myriad of surprises, Tribute in Blood is sure to keep you on the edge of your seat. Order this historical thriller-romance today!   
Author Links: 
Twitter:   @EdaleLane
Official Site:  https://pastandprologuepress.lpages.co/
Tour Schedule and Activities
11/25 Afshan Hashmi https://afshanhashmi.com/ Guest Post
11/25 Armed with a Book http://www.armedwithabook.com Top Ten List
11/25 The Literary Underworld http://www.literaryunderworld.com Guest Post
11/26 Writergroupie.net http://writergroupie.net Author Interview 
11/27 Jazzy Book Reviews https://bookreviewsbyjasmine.blogspot.com/ Author Interview
11/27 Saphhyria's Books https://saphsbooks.blogspot.com/ Guest Post
11/28 Horror Tree https://www.horrortree.com/ Guest Post
11/29 Sheila Deeth http://sheiladeeth.blogspot.com Guest Post
11/30 The Seventh Star Blog http://www.theseventhstarblog.com Guest  Post
12/1 The Book Lover's Boudoir https://thebookloversboudoir.wordpress.com/ Review
12/2 The Bookwyrm's Guide to the Galaxy https://bookwyrmsgalaxy.wordpress.com Top Ten List
Links for Tribute In Blood:
Kindle Version: https://www.amazon.com/Tribute-Blood-Tale-Vlad-Impaler-ebook/dp/B08DK9MKRH/
Amazon Print Version:  https://www.amazon.com/Tribute-Blood-Tale-Vlad-Impaler/dp/B08DC5YFTL/
Barnes and Noble Link: https://www.barnesandnoble.com/w/tribute-in-blood-melodie-romeo/1137395978?ean=9798668904129
About the Author
Latest Posts
Stuart Conover is a father, husband, published author, blogger, geek, entrepreneur, horror fanatic, and runs a few websites including Horror Tree!