"The Wolf We Feed" An interview with Richard Thomas
"The Wolf We Feed"
An interview with Richard Thomas
Author of Spontaneous Human Combustion 
Keylight Books, First Edition (February 22, 2022)
INTRODUCTION
Earlier this year, Richard Thomas published his fourth collection of short fiction, Spontaneous Human Combustion. The author of eight books and 165 published short stories, Richard is also a prolific editor and busy writing instructor. Here, he reconnects with his grad school classmate, Jacque Day, to talk about his latest book, how he landed an agent, and writing about love and other meaningful things. 
INTERVIEW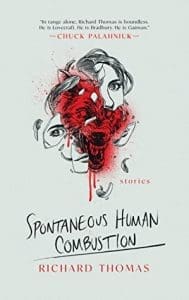 Jacque Day: Shortly after the release of Spontaneous Human Combustion, you said, "I've been working hard the last few years to put LOVE at the center of my dark stories, and not DEATH. So that ha[s] gotten me to some different places, more optimistic." I'd love to hear more about that choice and the "different places" you've encountered in that journey. 
Richard Thomas: For sure. Things have been so bleak the last four years—politics, COVID-19, violence, injustice—that I felt I couldn't write horror that started bleak and ended bleak. There was nothing of interest in that space for me. You see that play out in quite a few of my stories in this collection—that love and hope—such as in one father's love for his son in "From Within." So this collection explores not the idea of spontaneous human COMBUSTION (as in fire and flames) but the spontaneous HUMAN combustion—the combustion and exploding and expansion of what it means to be human, that duality between the monsters that lurk in us all and the ways it might manifest. 
You know the adage about the two wolves that live inside us—love and hate. Which one survives? The one we feed. So I tried to explore that in this collection—a bad cop in "Repent" who has a chance to do one good thing with his life, the bad man in "Ring of Fire," who can be the key to our evolution as a species, the bad clown in "A Caged Bird Sings in a Darkness of Its Own Creation" as he struggles to get a grip on reality, and past things he has seen. There is chaos in this collection, for sure, cosmic horror and the uncanny, but there is also a lot of redemption.
JD: It's been half a year since the release of Spontaneous Human Combustion. Care to share some of your more memorable reader comments or feedback? 
RT: It's gone over really well, and that means the world to me. I think it's some of my best work to date, and I really hoped that people would be moved by it. I'm happy that it currently has [as of the date of this interview] a 3.84/5 rating on Goodreads, with 65 percent giving it a 4- or 5-star rating. And on Amazon I have a 4.6/5 with 87% giving it a 4- or 5-star review. I feel pretty good about that.
But what really stands out to me are the responses on Instagram and YouTube. I've never gotten much attention or traction on those sites, so when I saw that a reviewer, Edward Lorn, called Spontaneous Human Combustion "damn near perfect," reviewing it for 20-30 minutes … wow, that really blew me away. The Nerdy Narrative, Lezlie Smith, reviewed every story in the collection, and had such high praise for it, calling it her favorite collection of the year and quite possibly ever. Wow. Beyond that, I think the three starred reviews at Publishers Weekly, The Library Journal, and Shelf Awareness were what really stuck with me. I've never gotten ONE starred review, let alone three. 
Overall it's been great to see a mix of personal stories and individuals responding with praise, along with established literary markets taking notice of the collection. That means a lot. 
JD: How do people prefer to read Spontaneous Human Combustion? Does your Kindle audience and Audible listenership line up pretty well with hardcover and paperback readership?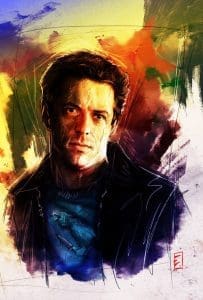 RT: I've noticed that most of my sales have been paperback and hardcover, but there have definitely been Kindle and audiobook sales as well. I love that people are getting the audiobook, and the feedback is encouraging—I've seen comments about how much the voices and acting really add to the stories, and that it's a quality product. If somebody is hopping in a car or on a plane and listening to my stories, that's pretty cool. But overall, based on my royalty statement, and earning out my advance (by the way, a first for me, even GETTING an advance for a collection), people still seem to enjoy holding a book in their hands. If you aren't familiar with advances, it just means that whatever they paid me up front, I earned that much, and so NOW I get paid for every book that is sold, on TOP OF that advance. The illustrations for every story may help with the readability and excitement as well. 
JD: It's no secret to your peers in the business that you're a promotional whiz kid. Now, after eight books and 165 stories published, you have a healthy and growing readership. How much work goes into engaging that readership?
RT: I try not to be too obnoxious, but I've found that an approach across several social media platforms, as well as over time, can work well. One thing that Turner Publishing did was a giveaway at Goodreads. That ended up getting over 3,000 people to add the book to their "to-read" shelves, and I think that made a big difference. I am mostly on Facebook, Twitter, and Instagram—so I just shared things over time, trying to build excitement. That might mean everything from the initial acquisition of the book (three presses bid on it), to the cover reveal, to interior art, to the first reviews, to the starred reviews, to the release. I've found that pictures—of people with the book in their hands, or cover art, or interior art, or me reading, or whatever—can really engage the audience. Most people are excited for you, and want to go along on the journey. So I try to share my successes, as well as my struggles and failures, over time, so that when the book comes out and I'm really promoting, they aren't upset about the level of promotion. I try to be humble, as well as excited, and to engage as I share my news. High tide raises all ships, right? When I succeed, that can lead to success for those in my orbit. I also like to tell personal stories, and talk about where the ideas for these stories came from, or what influences I might have had. I try to involve my audience in my process.
JD: Take us through the process of landing your agent. How long did you work toward that goal, and what tipped the process for you?
RT: Oof, that took a long time. I wrote Disintegration in my MFA, but as you know, I only wrote half of it at MSU, then put it aside to work with my mentor, Dale Ray [Phillips], on literary fiction. I came back to it after my MFA, and wrote 40k in a week to finish it. THEN I took a year to shop it to small presses, and nobody made an offer. It was ANOTHER year of shopping, and 100 agents passing, before Paula Munier called me to sign me. She and I shopped it for another year and ended up signing with the Alibi imprint at Penguin Random House, a two-book deal. That worked out pretty well, getting a nomination from the International Thriller Writers Awards for Breaker, the second book in the deal. I think Paula just liked my voice. She wasn't just buying Disintegration—she believed in me as an author, and thought that over time we could do some great things together. She's currently shopping my latest book, Incarnate, an arctic horror, sin-eater book.
JD: I have to admit to a little pang of professional envy when I saw Brian Evenson had penned the foreword for Spontaneous Human Combustion. What was it like working with him?
RT: Brian has been a major influence on my writing over the years. I discovered him while working on my MFA, and have been a fan of his ever since. I published quite a few of his stories at Gamut, an online magazine I ran for a few years, and have also been alongside him in several anthologies. The new-weird stories he writes, the depth, the originality—it's quite inspiring. So when I put this collection together, he was the first person I thought of for the foreword. I knew he would understand my work, that he already "got me" as an author, and seemed to enjoy what I was doing. I felt that he was so smart, so insightful, that anything he had to say about these stories would be a powerful experience for the reader (and myself as well). He did not disappoint. So astute, so smart, so well read—I may have cried when I read his foreword. Seriously. Brain is a professional, and very generous with his time. I have him pop into my classes whenever I can.* There are a few authors that really show me where I'd like to go—they are the carrot to my horse and cart. Brian is one, Stephen Graham Jones is another, as well as people like Alyssa Wong, A. C. Wise, Kelly Robson, Catriona Ward, Brian Hodge, Benjamin Percy, Usman Malik, Priya Sharma—so many authors.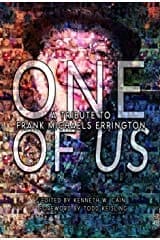 JD: You've spoken at length about the themes you explore in Spontaneous Human Combustion. One recurring thread that emerged for me is the solitary figure, or man, who by the start of the story has passed some crucial point of no return, and when we meet him, he is (or is on his way toward) paying dearly for his choices. Specifically I think of "Requital" (which I read when I was helping out with One of Us, a tribute anthology to Frank Michaels Errington … excellent story), "Nodus Tollens," and "Open Waters." And that's just to name a few. What about this condition of the solitary, damned figure, prompts you to return to this theme again and again? 
RT: I like to get an emotional reaction from my readers, so quite often I find it more effective to have one person, on a journey, dealing with their conflicts—internal and external. I've also been writing more "hopepunk" the last few years, so in this collection you can see how that vengeance, justice, balance, hope, reconciliation has played out. I wanted there to be consequences for actions. Sometimes it is in a cautionary tale, sometimes it's in a bit of hope at the end of a horrific journey, sometimes it's a balancing of scales. So yes, you see quite a few men paying for their actions in this collection. I mean, men are responsible for most of the wars, for most of the violent crimes (including rape), for most of the repression and injustice in the world. It was a key aspect of the last story and novelette, "Ring of Fire." I HAD to use a bad man in order to try and create this evolutionary leap. The hundredth monkey becoming the thousandth monkey. This came out of the #metoo movement, and in light of the recent news of the overturning of Roe vs. Wade, it seems even more important right now.
~~~
Spontaneous Human Combustion is available in hardcover and paperback, via Audible, and on Kindle. Learn more about Richard Thomas at whatdoesnotkillme.com.
* Richard Thomas teaches writing classes on a range of topics for LitReactor and Storyville.
About the Author
Latest Posts
Jacque Day writes about stuff she finds too perplexing to figure out any other way. She served as the longtime managing editor for the New Madrid Journal of Contemporary Literature, and has zigged and zagged as a magazine journalist, book and magazine editor, radio correspondent, TV producer,  motion picture crew member, and occasional comedy writer and producer. Her newest work appears in the collection, That Darkened Doorstep, published in 2022 by Hellbender Books, an imprint of Sunbury Press.