Taking Submissions: Weird Horror Magazine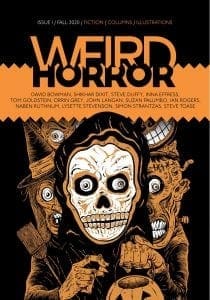 Deadline: November 30th, 2020
Payment: 1-cent-per-word
Theme: Pulpy dark fiction in the weird fiction and horror genres
Welcome to the new pulp! Weird Horror magazine is a new venue for fiction, articles, reviews, and commentary.
The best way to determine what we want is to pick up our inaugural issue, in print or eBook.
FICTION GUIDELINES
OPENS: October 1
CLOSES: November 30
Weird Horror Magazine is open to submissions of fiction only from October 1 through November 30. The submission period covers 2 issues – March and October. Fiction must be original and previously unpublished anywhere, in any format, on any platform. Please do not query about reprints.
As we'll be reading for 2 issues, it may take the full submission period to respond. Simultaneous submissions are welcome. Please inform us if your story is accepted elsewhere. No multiple submissions. Please send 1 story. We anticipate buying 12 – 18 stories only for our 2021 issues, but they will all come from the slush pile.
We are actively seeking new and underrepresented voices. We accept submissions from anyone, regardless of race, gender, or sexuality.
As our title suggests, we are seeking pulpy dark fiction in the weird fiction and horror genres of 500 to 5,000 words. Monsters, ghosts, creatures, fiends, demons, etc. Dark crime. Suspense. Mutants. Killers. Ghouls. Golems. Witches. Pulpy goodness! We are hoping to bring some fun (and terror) to our readers.
Payment is 1-cent-per-word (paid via PayPal) for first worldwide English-language rights, for use in the print and eBook editions. We ask for a 6-month exclusivity. Copyright remains with the author, and a contract will be provided.
Submit stories in Standard Manuscript Format as a Word document or PDF, and e-mail as an attachment to: WeirdHorrorMag [at] gmail [dot] com
Please format the subject line of your e-mail thusly: Submission – Story Title – Author Name
Please keep your cover letter short.
Submissions sent outside the submission period will not be read.
Please query if you have any questions.
-Michael Kelly
Via: Undertow Publications.