Taking Submissions: The Rebel Diaries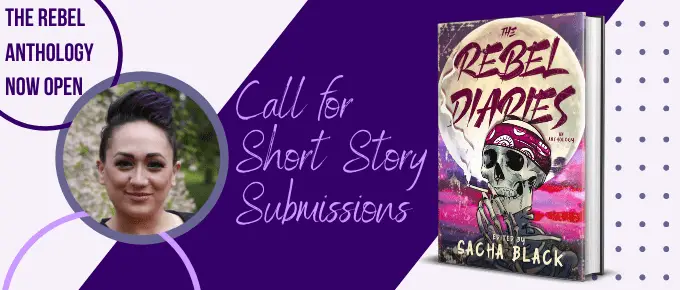 Deadline: June 30th, 2021
Payment: Royalty Split
Theme: What happens when the villain wins?
What happens when the villain wins?
Sick of dashing debonairs? Fed up of being blinded by shining armor?
Sometimes, all a girl wants is a villain for a hero. The Rebel Diaries is looking for stories starring characters with a dubious shade of morals. We want characters who aren't afraid of getting what they want, causing a bit of chaos, dabbling in mischief and mayhem, and slathering on the sarcasm.
We want stories that slip into the grey areas, that are bulging with villains, deviants and rebels. We're after sassy tales littered with questionable morals and happy endings—for the villains anyway.  
We are not looking for horror or gratuitous violence, but dark stories that are fun, light hearted explorations of the characters usually hidden in obscurity. 

We actively encourage submissions from own voices, characters or authors with disabilities or from underrepresented backgrounds, LGBTQ+ etc.
***
Submission deadline: June 30th, 2021
Word count: 2,500–7,500 words.
Payment: royalty split via Draft2Digital (an account will be required but is free to set up)
PLEASE NOTE: All stories will be read blind, names will be taken off stories before they're read and a number assigned to ensure no bias.
Stories slightly over or under the word count will be considered
Stories must be saved as a Word document, PDFs will not be accepted
Times New Roman
Size 12 font
1.5 paragraph spacing
You can use this template for submitting
Place your name, the title of the anthology for which you are submitting, and your preferred contact email address in the header of the document
Sex, violence, are accepted as long as they serve the story
Creative swearing is encouraged ;p

 

No hate speech or fan fiction
All works must be original and copyright held by the person submitting
One submission per author only, multiple submissions will lead to disqualification of all submitted stories.
One story place will be given to a Rebel Author patron
Reprints will be considered
Payment for accepted stories will be made through Draft2Digital (a free account can be set up if you don't have one)
Failure to adhere to submission guidelines will result in immediate rejection from the anthology.
Editor decision is final.
Please submit your stories using the button below:
Via: Sacha Black.
About the Author
Latest Posts
Angeline Trevena is a British author of dystopian urban fantasy and post-apocalyptic fiction. She has an impressive backlist of novels, a series of worldbuilding guides for authors, and short stories appearing in various anthologies and magazines. Despite the brutal and dark nature of her fiction, Angeline is scared of just about everything, and still can't sleep in a fully dark room. She goes weak at the sight of blood, can't share a room with a spider, but does have a streak of evil in her somewhere. Find out more at www.angelinetrevena.co.uk