Taking Submissions: The Neurodiversiverse Anthology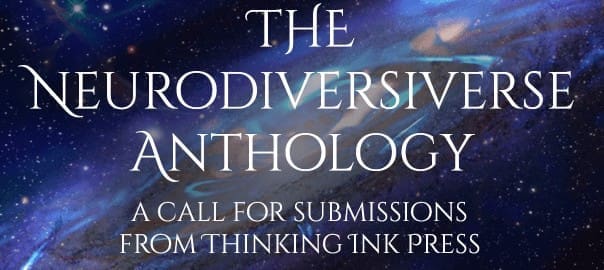 Deadline: December 31st, 2023
Payment: $100 per short story, $50 per flash fiction story, $50 per poem, $50-$100 per illustration, depending on size & complexity
Theme: Stories with a range of neurodivergent perspectives on encountering aliens.
Thinking Ink Press wants to publish your short stories, flash fiction, poetry, and art exploring encounters between neurodivergent people and neurodivergent aliens.
Submission deadline: December 31, 2023
The universe is filled with aliens—creatures with different histories, cultures, and even biologies—who may seem strange to us. But our world is filled with a diversity of people, many of whom find each other strange. One particular group finds the rest of humanity especially strange: neurodivergent people.
Would neurodivergent folks find themselves at an advantage in dealing with aliens?
Let's find out.
Neurodiversiverse will be an anthology of 60,000 – 90,000 words, edited by Anthony Francis & Liza Olmsted, featuring stories with a range of neurodivergent perspectives on encountering aliens. We're inviting you to put your spin on what that means.
We welcome all well-told stories, but we are particularly interested in representation, empowerment, and own voices for neurodivergent people—especially stories which highlight how neurodivergent perspectives and experiences might give advantages when dealing with aliens.
Own voices and diversity
Thinking Ink Press believes that people of all backgrounds deserve to have their voices heard. We primarily publish books relating to disability, writing advice and inspiration, and diverse speculative fiction. Editor Liza Olmsted is neurodivergent, and all of the founders of Thinking Ink Press are members of marginalized communities.
For this anthology, we are particularly interested in short stories written by people who are neurodivergent, including but not limited to: autistic, ADHD, OCD, Tourette's. We understand the impact of intersectionality, and explicitly invite people from other marginalized backgrounds to submit stories.
We're also aware of how insidious unconscious bias is, and we are making efforts to minimize its effect on what we choose to publish. If you'd like to chat with us about that, please email us at [email protected]; we're open to good advice.
No AI-generated pieces
On the note of "own voices," we have chosen not to accept human submissions on behalf of AI collaborators. Fully autonomous intelligent systems are, of course, welcome to submit on their own initiative. However, we won't accept AI-generated or AI-edited pieces unless you actually are the AI in question.
What we're looking for (Submission Guidelines)
Speculative fiction on the theme of neurodivergent people encountering aliens

We expect the representation of neurodivergent people to be empowering, not caricatured, infantilizing, or demeaning

Original work (no reprints please), translations OK
No simultaneous submissions
Multiple submissions OK
Short stories up to 6k words
Flash fiction up to 1k words
Poetry up to 100 lines
Black-and-white line art illustrations
These guidelines are flexible: if you have a story or illustration that you think is just perfect for this anthology but does not quite fit these guidelines, we'd prefer the opportunity to see it rather than you self-rejecting your piece for us.
What we're paying
We're paying a flat rate per submission:
$100 per short story
$50 per flash fiction story
$50 per poem
$50-$100 per illustration, depending on size & complexity
We plan to run a Kickstarter with stretch goals for the anthology, such as paying SFWA standard rates for fiction, but the anthology will move forward regardless of whether these are funded.
How to submit
The submission deadline is December 31st, 2023.
To give your submission the best possible chance of not being auto-rejected at 4am by an exhausted editor, please follow as many of these instructions as is practical:
For stories, flash fiction, and poetry:
For art:

Save your piece in PNG, Photoshop, or Illustrator format
Name the file as "Artist Name – Title of the Piece"

Write a brief cover letter describing yourself and your story.

If you identify as a member of an underrepresented group, we encourage you to let us know in your cover letter, but this isn't required.
If your submission doesn't quite meet the guidelines outlined above, please mention in what ways.

Email 

[email protected]

 with the following:

Subject: NDV Anthology Submission: "Title of the Piece"
Body: The cover letter as described above.
Attachment: Your piece.
Note: We want our anthology to be open to everyone. If you need special accommodations for your submission, or if aspects of these guidelines are problematic for you, please email us. We'd be happy to work with you to find an approach that best meets your needs as well as ours.
Via: Thinking Ink Press.
About the Author
Latest Posts
Stuart Conover is a father, husband, published author, blogger, geek, entrepreneur, horror fanatic, and runs a few websites including Horror Tree!