Taking Submissions: Screams From The Ocean Floor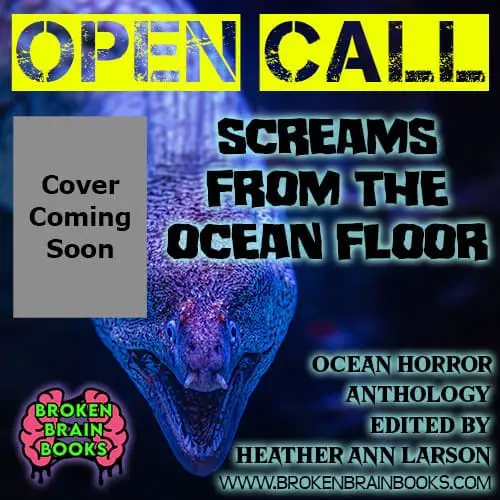 Deadline: October 31st, 2023
Payment: $15
Theme: Unique ocean-themed horror stories
Broken Brain Books is now taking submissions for our first anthology, Screams From The Ocean Floor. We are looking for roughly 15 stories with a mix of invited authors and open call submissions.
Welcome to the scariest place on the planet. The bottom of the ocean. No air. Complete Darkness. Immense pressure. Bizarre Creatures. No chance of survival.
We are looking for unique ocean-themed horror stories that will leave the reader thinking twice before stepping near the sea again.
*Cover art coming soon*
Submission Guidelines
All stories should include the ocean as a major theme.
Stories should be between 3,000 and 5,000 words in length.
Stories will be accepted from August 1st to October 31st, 2023.
Previously unpublished works only
No AI generated works.
Broken Brain Books will retain exclusive rights to the story for one year from the date of publication. Both parties will hold joint rights after one year.
Payment of $15 + ebook copy for accepted authors
Selected stories will be edited by Heather Ann Larson and reviewed with the author.
Payment will be sent to the author upon return of a signed contract.
Expected publication February/March 2024
Email completed stories to [email protected] as a Microsoft Word attachment.
Via: Broken Brain Books.
About the Author
Latest Posts
Stuart Conover is a father, husband, published author, blogger, geek, entrepreneur, horror fanatic, and runs a few websites including Horror Tree!