Taking Submissions Cosmic Horror Monthly (Early Listing)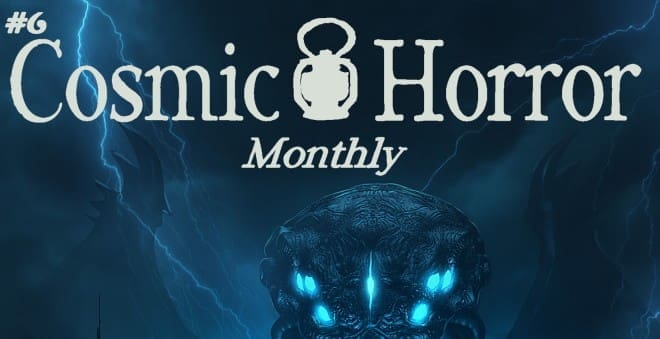 Deadline: February 28th, 2021
Payment: 1 cent per word for original fiction. 10k words = $100. 0.5 cents per word for reprints., 50 cents per line for poetry.
Theme: Original horror and dark fantasy stories, poems, and images (paintings, drawings, etc). Most types of horror and dark fantasy are welcome but we do prefer the work have a science fiction or otherwise cosmic philosophical leaning.
Note: Reprints Allowed
Note: Opens January 1st, 2021
Cosmic Horror Monthly is a horror and dark fantasy magazine edited by Charles Tyra.
Submission Period
*SUBMISSIONS WILL OPEN SOON* – Submission period is yearly from January 1st – February 28th
SUBMISSION PROCEDURES
Instructions: All fiction must be submitted via email to [email protected]. When submitting, you may paste the entire story in the body of the email or attach a Microsoft Word file. For artwork, please put a link to the gallery/pieces in the body of the email along with any relevant background information. Attachments are acceptable only when submitting individual artwork for consideration. Acceptable file formats are JPG, PNG.
Guidelines
Please only submit ORIGINAL work.
Cosmic-Horror is seeking original horror and dark fantasy stories, poems, and images (paintings, drawings, etc). Most types of horror and dark fantasy are welcome but we do prefer the work have a science fiction or otherwise cosmic philosophical leaning. If you aren't sure if your work qualifies, submit it and we can decide. No subject is off-limits and we do encourage writers to try and push the status quo. A writer may submit as many stories as they like, but please only submit a single story once. Every email will be checked!
Word Count: We are open to stories of 1000-7500 words. Stories of 5000 words or less are preferred.
Payment
1 cent per word for original fiction. 10k words = $100
0.5 cents per word for reprints.
50 cents per line for poetry.
20 dollars for artwork chosen as interior content.
50 dollars for cover art.
Rights: Please request the artist/publisher contract.
Cover Letters: The first paragraph of your email should contain whether it is a reprint, the length of your story (if applicable), your publishing history, and any relevant information.
Questions/Problems
Email [email protected] for all inquiries, or if you have any trouble using our online submission system.
We will try to respond to every email with feedback but unless we are requesting more from you, there is no need to respond, even to say thank you. It may sound harsh, but those emails will only serve to clutter up the editorial inbox.
Diversity Statement: We believe that the horror genre's diversity is its greatest strength, and we wish that viewpoint to be reflected in our story content and our submission queues; we welcome submissions from writers of every race, religion, nationality, gender, and sexual orientation.
Sexual themes and stories with strong sexual content are acceptable, but Cosmic-Horror is not a market for erotica. If in doubt, feel free to send your story in and let us decide.
Please no fan fiction for existing creative universes not in the Public Domain. (The Cthulhu mythos is fair game )
If you're not sure if your story is suitable, don't query; please just go ahead and submit it and let us decide.
You are welcome to resubmit previously rejected stories/poems if they have been significantly revised.
Via: Cosmic Horror Monthly.