Taking Submissions: Cicerone Journal Issue 5: Curious Worlds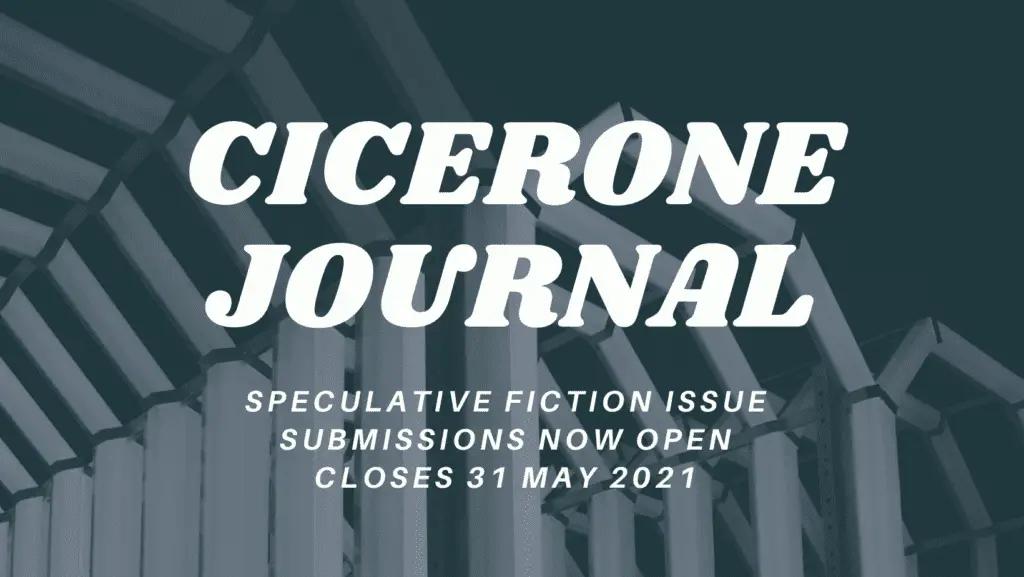 Deadline: May 31st, 2021
Payment: AU$100
Theme: Speculative Fiction
Note: Australian writers (residents and citizens) only
A cicerone is a guide who shows and explains the curiosities of a place to strangers. We want you to lead us to interesting and unseen places, and help us to understand these places. We want you to be just as curious as we are. Tell us something unusual. Show us an old thing in a new light. Point out something we never noticed. Take us to a side street, dark alley, or hidden trail.
---
Cicerone Journal is currently OPEN for submissions for Issue 5: Curious Worlds, our first Speculative Fiction showcase.
For our current issue, please send a maximum of two pieces of short fiction to [email protected].
For our Curious Worlds issue, we will be accepting short fiction of 1000-5000 words from any speculative fiction genre. This is a paid opportunity: we will pay AU$100 for each piece that is published.
Genres accepted include, but are not limited to:
Fantasy, science fiction, and science fantasy
Dystopian and utopian fiction (including apocalyptic and post-apocalyptic)
Climate fiction (cli-fi)
Magic realism
Historical fantasy
Supernatural fiction
Superhero fiction
Indigenous futurisms
Afrofuturism
Punk subgenres, such as steampunk, cyberpunk, solarpunk, silkpunk, capepunk, biopunk, etc.
---
Unsure if your piece counts as speculative fiction? Contact us via email at [email protected] or follow us on facebook at Cicerone Journal where we will be discussing some of our favourite speculative fiction genres throughout the submission period.
Send your submissions to [email protected] with the subject line [Speculative Fiction Issue] – [Title of your piece(s)].
Submissions close midnight AEST 31 May 2021.
If your piece is topical or time-sensitive, we are open to altering our publication schedules to accommodate it. Please include 'TIMELY' or 'URGENT' (or some equally galvanising word) in the subject line of your email submission if the piece you are submitting is time-sensitive.
We will try to respond to your submission in a timely manner. However, we will not be able to provide individual feedback on submissions.
For Issue 5, we will be accepting submissions from Australian writers (residents and citizens) only.
We are not accepting previously published work or work currently under consideration elsewhere (a.k.a. simultaneous submission).
We do not accept works including graphic depictions of violence and/or sexual assault. We do not accept any sort of work that may be reasonably understood to be hate speech.
Many thanks to ArtsACT for their support of Cicerone Journal, and thank you to our contributors past and future. We look forward to reading your work!
Via: Cicerone Journal.
Sign up for our Newsletter
Never miss a post from our team by signing up!