Disclosure:
Our reviews may contain affiliate links. If you purchase something through the links in this article we may receive a small commission or referral fee. This happens without any additional cost to you.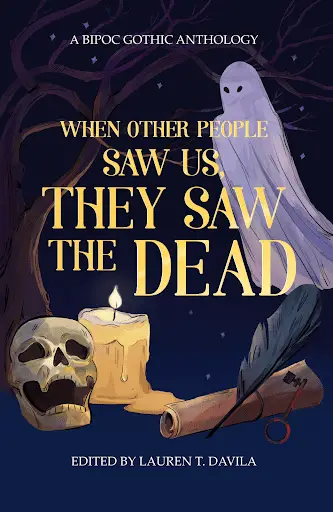 Title: When Other People Saw Us, They Saw The Dead
Editor: Lauren T. Davila
Publisher: Haunt Publishing
Genre: Gothic
Release Date: May, 2022
Synopsis: A faceless man stalks a woman's nightmares in Hollywood. A Kanontsistóntie is summoned to seek revenge in a monastery. A move from the projects to Manhattan leads to ominous shadows closing in. Two sisters discover a secret room in their farm, unearthing a sinister power.
When Other People Saw Us, They Saw the Dead is an anthology of dark, unsettling writing from some of the most exciting contemporary BIPOC writers. Blending Gothic, horror, folklore, fantasy and fairy-tale, these eerie short stories will disturb, move and humour you. Death is ever-present in the pages of They Saw the Dead, blending with notions of home, memory, grief and belonging, as well as gentrification, white supremacy and colonisation.
Edited by Lauren T. Davila, They Saw the Dead explores what it is to be truly haunted.